HEBRAIC YEAR 5777 – YEAR OF THE CUTTING WEAPON – PART TWO
This new Hebraic year begins in the evening of Rosh Hashanah Oct 2, 2016. The decade is 70 which means the decade of the eye, vision, perception, insight. The year 7 which is the Hebrew letter Yayin, means wine. The word picture of Yayin is a weapon to cut, which can be a plow, a sword, a knife. This is the year of seeing God's wine and the weapon being manifest into the earth. Pray that you will not only SEE these things, but EXPERIENCE them as the goodness of God in the land of the living.
[ CLICK HERE FOR PART ONE; HEBRAIC YEAR 5777 YEAR OF WINE]
There many different types of weapons for warring in scripture, for instance here are some:
Standing – Exodus 14:13
Praising – 2 Chron 20:21
Shouting – Joshua 6:5
Trumpet – Judge 7:18
The noise of chariots – 2 Kings 7:6
Five small stones - 1 Sam 17:40
Tent peg – Judges 4:21
Rod – Isa 30: 31-32
Etc
The Hebrew number 7 and letter Yayin looks like a sword with crown. This represents ruling authority is given to war when in alignment with God's Word.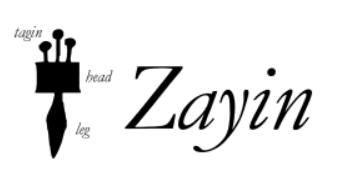 In my younger days I used to aggressively war against principalities. The Lord brought me into repentance for my presumption and taught me how to war through the weapon of peace as in the God of peace shall crush the enemy under our feet. Here is my testimony about that. Since that time I have learned other ways to war. This year He is giving us a brand new sword. Ask for it, receive it and then learn to use it according to scripture.
9/18/16 A NIGHT SEATED IN HEAVENLY PLACES
HEARD AND SAW:
A right of way. Access. Held together with Your Word. In the spirit realm, authority. Heavenly places. You have access. I heard an angel proclaim over me, Authority, you have authority. Decree. I saw a megaphone being put to a mouth. Announcement of good tidings. To bring deliverance to the captives.
Ephesians 1:20 Which he performed in Christ, when he raised him from the dead, and set him at his own right hand in the heavenly places,

Ephesians 2:6 And has raised us up together, and made us sit together in heavenly places in Christ Jesus.
3/16/14 SEATED IN HEAVENLY PLACES TO RULE IN PEACE
[Lord what does seated in heavenly places mean?] Ruler. Over principalities and powers. They are with you too sweetheart. We all are. Assignment, rule in peace. That is My way. A very important aspect. Overcome evil with good. Storm. You passed through it sweet one.
1/02/15 THROUGH TO HEAVENLY PLACES
My assignment. Porthole. You are seated in heavenly places. Rest. Fellowship. We are behind you. Very important detail. Destinies. We have additional reasons. Fellowship made in heaven. Heavenly places.
Bringing you through to the other side. The wall is a visual of what is in front of you. Your sacrifices are making a difference sweet one, keep it up. There are great joys coming sweet one. A new life unfolding. Commanded a blessing. Follow through.
Walk lightly. No need to tromp or pounce. Deal gently. Seated in heavenly places.
11/04/15 OUR NAMES ON A SEAT IN HEAVENLY PLACES
[Lord what does it mean to be seated in heavenly places?] On the throne. A very special place for you. Your name is there.
THE SWORD IN THE BLUE BOX
In the heavenly realm, you have a chair. Sit in it. It belongs to you. Reach down from your chair. What is at your feet? Lord I see a royal blue and gold box that is knee high. Lid, take it off. I see dark blue (indigo) velvet inside, the kind of dark blue background for stars. What else is inside your box sweet one? Reach in and grab it. A sword. This box is yours.
Ephesians 1:3 Blessed be the God and Father of our Lord Jesus Christ, who has blessed us with all spiritual blessings in heavenly places in Christ:
THE SWORD OF MIGHT AND KNOWLEDGE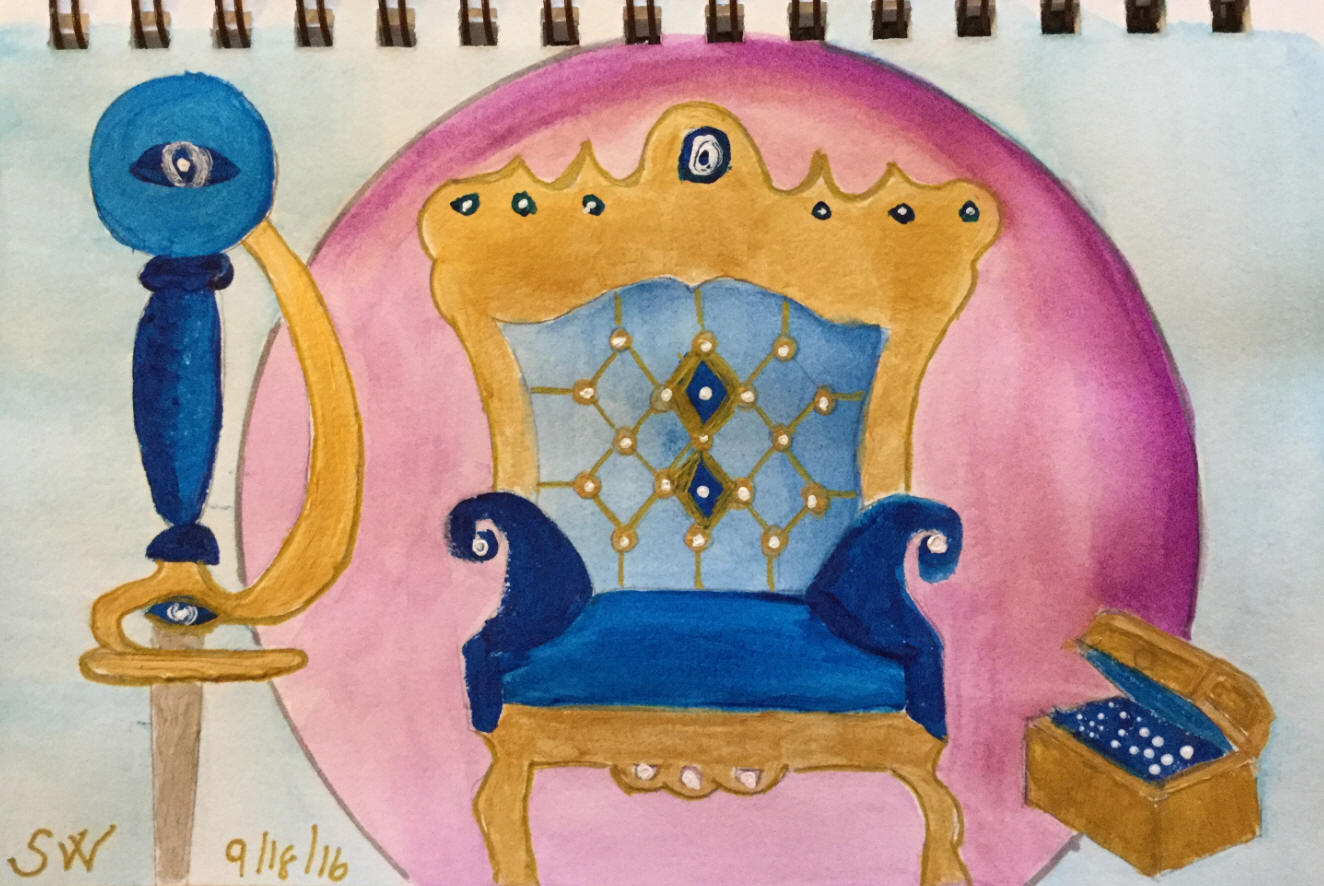 I painted the above in my propehtic art journal based on the vision last night. In the 7 spirits of God, the blue represents the spirit of Might and the darker indigo blue represents the spirit of knowledge. The violet represents the spirit of the fear of the Lord.

The eye of the Lord is embedded twice in the sword of Might and Knowledge.

Ephesians 1:17-19 That the God of our Lord Jesus Christ, the Father of glory, may give unto you the spirit of wisdom and revelation in the knowledge of him: 18 The eyes of your understanding being enlightened; that you may know what is the hope of his calling, and what is the riches of the glory of his inheritance in the saints, 19 And what is the exceeding greatness of his power toward us who believe, according to the working of his mighty power.

When we are enlightened by hearing/ seeing His Word, understanding and knowledge comes. When our eyes are opened to perceive these things, FAITH is activated to use the SWORD of MIGHT. We have clearly heard and seen and know His purpose, His will, His heart and we are able to take the sword of Might and use it for His Kingdom purposes. There is power in the double portioned eyes of the Lord in this sword. It is the power of revelation, knowledge and understanding to see, perceive, sense His truth. This activates the faith needed to use the sword.

A

s we are in alignment with scripture in using our weapons from heavenly places, we are completely beset (surrounded and bubbled) in the spirit of the fear of the Lord. This keeps us as we walk in that anointing, honoring Him and doing what pleases Him.
ACCESSING HEAVEN
I saw Wayne's spirit and he was talking to me on a phone. I heard the song I sought the Lord and He heard me and delivered me from all of my fears. I saw a cell phone and a remote controller. These are old methods of lifting up. Come up dear child. Decree. Speak over those you love. Exercise your authority. You are invited to pray with Me. Deliverer do not be afraid. Decree.
According to what I heard and saw the rest of the night, I took the sword and began to decree with it, cutting off trauma that had caused people to stop growing, and loosing them to grow up into full maturity.
=============
9/11/16 NEW WEAPONS OF WAR
[Lord can You talk to me about the Hebraic year 5777?]
HEARD AND SAW
STAYING HIDDEN IS A WEAPON – don't VIOLATE YOUR CONSCIENCE
I have hidden you. They see your tracks and then they disappear. Smile. Be consistent. For the fighting of the demonic hordes. They are vast sweet one. I am covering you. Stay there. Pure and undefiled. To walk away is to violate your conscience. My chosen one. A proper attention to details. These are important.
Col 3:1-4 NKJV
If then you were raised with Christ, seek those things which are above, where Christ is, sitting at the right hand of God. Set your mind on things above, not on things on the earth. For you died, and your life is hidden with Christ in God. When Christ who is our life appears, then you also will appear with Him in glory.
MISC HIDDEN INSERTS
2/08/04 HIDDEN = PROTECTED
Your authority has been returned. Warrior. Shame. band, imprisonment.
We have a new name for you. Protected. The hidden one. Hidden.
10/01/11 TRANSPARENTLY HIDDEN
I saw a turquoise frosted glass frame with a Safire blue frosted frost glass window inside of it. Canopy. Covenant. A canopy is a translucent barrier. Here's an example. To love my children. Barrier. Transparent, hidden away.
2/09/12 HIDDEN IN MY PRESENCE
Abide, draw upon Me beloved daughter. I will give you comfort in all you do and say. Prophesy. I have put My Words in your mouth. It's in your heart. You feel it. Now speak it. Fear not. Budding forth.
A living sacrifice. Melted before Me. Pouring out wafts of beauty drifting up before My face. Adorned and passionate. I receive your love. Such yearning! I will totally satisfy you My love. I promise.
Hidden in My Presence. I cover you. Before Me you have no faults. They are covered. Esteemed highly. Honor guard of angelic protection. Fear not. I have called you as My melted one.
Shall we begin? The river flows in one direction. I saw a pair of hands open up, palms facing up. Surrender. Not My will but Yours be done oh Lord. Celebration. Get together.
1/13/16 THE HIDDEN ONES WORKING WITH THE HOSTS
An army. In the middle of battle. The heavenlies, it is full of them. Great clashes. Far above the earthy. I heard Sadhu's voice say Please be seated. The hidden ones. Our secret. America. Hosts. Generals. Captains. Working together as one. Yes this is the trumpet. Whose trumpet? The one I gave you. Smile. Yes perfect pitch.
A RIGHTEOUS MAN ABOVE BLAME IS A WEAPON
What you say. Be kind, gentle, wise. Looking unto Me the Captain of your salvation. How to be a weapon. Use My Word. What did I say? Powerful. The righteous man. Above blame.
Hebrews 2:10 For it befitted him, for whom are all things, and by whom are all things, in bringing many sons unto glory, to make the captain of their salvation perfect through sufferings.
James 5:16-17 Confess your faults one to another, and pray one for another, that you may be healed. The effectual fervent prayer of a righteous man avails much. 17 Elijah was a man subject to like passions as we are, and he prayed earnestly that it might not rain: and it rained not on the earth for three years and six months.
9/21/16: I turned to the following Word to Ponder:
RIGHTFUL LIVING KEEPS YOU AND YOUR CHILDREN 3/29/09
In religion, people perform works and live the lie of self righteousness in order to find faith. But I say that there is not one righteous, without faith in Jesus Christ. Yes beloved ones, righteousness is imputed to you through faith when you are born again. Yet even so, righteousness is also a choice to live right, in alignment with My Word. Even as Jesus was instructed to perform what was right, so My Word instructs you to walk in righteousness.
I have My people in a holding pattern and they are circling until they receive the gift to see themselves change and return to what is holy and walking as Jesus walked. Lives and children are at risk of falling into deeper ruin. The church has lost its voice because she has not voted with her mouth, nor backed it up with righteous living. Yes it is a clash with darkness. Come out the darkness, My people. My ways are not your ways. Return and walk just as Jesus walked as the light of the world. As you learn to walk in righteousness, it will keep you and make your future secure.
Matt 3:15 AMP
But Jesus replied to him, Permit it just now; for this is the fitting way for [both of] us to fulfill all righteousness [that is, to perform completely whatever is right]. Then he permitted Him.
Acts 13:47 NKJV
For so the Lord has commanded us: 'I have set you as a light to the Gentiles, That you should be for salvation to the ends of the earth.'"
Acts 26:17-18 NKJV
I now send you, to open their eyes, in order to turn them from darkness to light , and from the power of Satan to God, that they may receive forgiveness of sins and an inheritance among those who are sanctified by faith in Me.'
WORD TO PONDER: A WEAPON OF WAR – A RIGHTEOUS WALK 9/11/16
Beloveds there are many ways to war and many types of weapons. You have learned how worship and praise bring deliverance. You have learned how a shout of triumph sets captive free. You have learned how to take authority and rebuke the demons. And you have learned how to submit to Me so that the demonic flees. Do not forget the powerful weapon of prayer that a righteous man has in My kingdom. Yes a righteous man and his righteous walk are mighty weapons. All hell shudders before such a one. It is your own righteousness or is it Mine? Dear one you have learned that to please Me is to walk a righteous path and refute all that is unholy. We are partners together. You do your part and I do Mine and together it brings forth a mighty weapon fit for use.
Isaiah 54:14-17 In righteousness shall you be established: you shall be far from oppression; for you shall not fear: and from terror; for it shall not come near you. 15 Behold, they shall surely gather together, but not from me: whosoever shall gather together against you shall fall for your sake. 16 Behold, I have created the blacksmith that blows the coals in the fire, and that brings forth an instrument for his work; and I have created the destroyer to destroy. 17 No weapon that is formed against you shall prosper; and every tongue that shall rise against you in judgment you shall condemn. This is the heritage of the servants of the LORD, and their righteousness is of me, says the LORD.