9/11/16 HEBRAIC YEAR 5777 – YEAR OF WINE (Part 1)
This new Hebraic year begins in the evening of Rosh Hashanah Oct 2, 2016. The decade is 70 which means the decade of the eye, vision, perception, insight. The year 7 which is the Hebrew letter Yayin, means wine. The word picture of Yayin is a weapon to cut, which can be a plow, a sword, a knife. This is the year of seeing God's wine and weapon being manifest into the earth. Pray that you will not only SEE these things, but EXPERIENCE them as the goodness of God in the land of the living.
PART ONE - THE YEAR OF WINE
The number 7 in the year 5777 is Yayin which means wine.
Ecclesiastes 9:7 Go thy way, eat thy bread with joy, and drink thy wine with a merry heart; for God now accepteth thy works.
Song of Solomon 2:4 He brought me to the banqueting house, and his banner over me [was] love.
Strong's Hebrew Dictionary
3196. יַיִן yayin (yayin)
Search for H3196 in KJVSL; in KJV.
יַיִן yayin, yah'-yin
from an unused root meaning to effervesce; wine (as fermented); by implication, intoxication:—banqueting, wine, wine(-bibber).
masculine noun
2016 WINE INSERTS HEARD AND SAW
1/04/16 KEPT THE GOOD WINE UNTIL NOW
Fellowship. She's coming. I saw a wine bottle cut out that was a half page overlap on a scrapbook page. There was clear water in it and I asked the Lord what that meant. Immediately I remembered that the vessels were filled with clear water first before turning the water into wine. I smiled at the Lord's encouragement that our best years have been kept for now! He is giving us new wine for He has saved the best til last.
Joh 2:7-11 Jesus said unto them, Fill the water pots with water. And they filled them up to the brim. 8 And he said unto them, Draw out now, and bear unto the steward of the feast. And they bore it. 9 When the steward of the feast had tasted the water that was made wine, and knew not from where it was: (but the servants who drew the water knew;) the steward of the feast called the bridegroom, 10 And said unto him, Every man at the beginning does set forth good wine; and when men have well drunk, then that which is worse: but you have kept the good wine until now. 11 This beginning of miracles did Jesus in Cana of Galilee, and manifested forth his glory; and his disciples believed on him.
1/12/16 FAITHFUL, FULL AND READY TO POUR OUT THE BEST WINE
A full glass of wine. Faithful. Yes I am assigned to you. You shall have your wish.
7/16/16 THE FINEST WINE SENT TO PEOPLE WITH NEEDS
I am certain that You are with me. Cupboard. I had a flash picture from being underneath an arbor. It was green and lush and cool under the shaded canopy. The canopy foliage were vines and grapes! I heard the word Vintage.
I have a purpose for you. A kingdom purpose. You are on a mission to see strangers as people with needs.
QUICKENED PICTURE: This year I saved this picture and it has been quickened to me every time I have seen it! Now that I have realized the Hebraic letter for the year means wine, I realize why!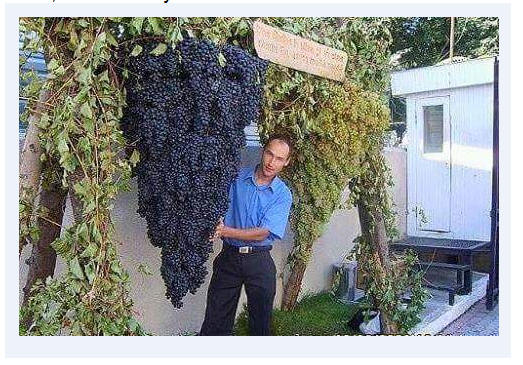 If you remember when they completed their wilderness journey, the spies that searched out the promised land brought back grapes. One cluster was SO huge that 2 people had put it on a poll to carry it between them. I believe this has significance. He is showing us the fruit, a foretaste of our promises as we go forth and occupy them.
Numbers 13:23-24 And they came unto the brook of Eshcol, and cut down from thence a branch with one cluster of grapes, and they bare it between two upon a staff; and [they brought] of the pomegranates, and of the figs. 24 The place was called the brook Eshcol, because of the cluster of grapes which the children of Israel cut down from thence.
In the NT turning the water into wine was Jesus first miracle. If we look into our cups and all we see is water, He will pour new wine into those who have been prepared to hold it. Wineskins were made from animal skin, which represents carnal flesh. Those who have laid down carnal lifestyles and hearts have been prepared to hold God's new wine.
Mark 2:22 And no man puts new wine into old wineskins: else the new wine does burst the wineskins, and the wine is spilled, and the wineskins will be ruined: but new wine must be put into new wineskins.
WORD TO PONDER NEW WINE FROM THE NEW LAND 9/11/16
Long you have waited for this promise. I AM filling your cup with new wine. Dear hearts, this is new kingdom wine. The greater works wine, having been redeemed through My blood is being sent from heaven to earth. Rejoice for I will pour out and fill the cups of those whose wineskins have been prepared and ready to hold it. Freely receive, freely give.
Matthew 26:27-29 And he took the cup, and gave thanks, and gave [it] to them, saying, Drink ye all of it; 28 For this is my blood of the new testament, which is shed for many for the remission of sins. 29 But I say unto you, I will not drink henceforth of this fruit of the vine, until that day when I drink it new with you in my Father's kingdom.
QUICKENED WORD: EFFERVESCENCE
I noticed that one of the definitions for wine in the Hebrew meant effervesce, which means to bubble up. I remember many times Bob Jones sharing that when we speak in tongues or when our spirit rises we feel it bubble forth. Be on the lookout this year for Him speaking through bubbles, froth, JOY and relief.
YAYIN = EFFERVESCENT, BUBBLY WINE
Strong's Hebrew Dictionary
3196. יַיִן yayin (yayin)
Search for H3196 in KJVSL; in KJV.
יַיִן yayin, yah'-yin
from an unused root meaning to effervesce; wine (as fermented); by implication, intoxication:—banqueting, wine, wine(-bibber).
masculine noun
7/9/02: BREATHING HIS CLOUD
I dreamed I was dancing and had long hair to the floor. I I breathed in and felt the vapor of His glory cloud in the room and then saw joy bubbles popping all over in the room. I heard the Lord say, Wings. Angel's wings. They take flight. Yes you too, let's go for a ride.
WORD TO PONDER MOMENTS IN MY CLOUD 7/9/02
There are times when you dance before Me, and you flow in the river of My Presence, that I stir each moment with life. Angels take flight even as your soul is enraptured with My nearness. Suddenly I am there as I visit you in My cloud. Breathe in and feel the vapor of My breath upon your face. Take a deeper dip in My river and feel the joy bubbles of the effervescence of My Spirit rise within your cells. Each shall come forth bursting with life while I surround you with tender caresses. Enjoy My Presence, My love, and let Me touch you with My tangible kisses of pure delight. For you are My delight and I Am near as you pour yourself out upon Me.
"Let him kiss me with the kisses of his mouth: for thy love is better than wine." Song 1:2 KJV
"Then a cloud covered the tent of the congregation, and the glory of the LORD filled the tabernacle." (Ex 40:34 KJV)
PLOP, PLOP OH WHAT A RELIEF IT IS!
This week, before I did this study the Lord reminded me of a time when I laid my hands on the spine of a man at home group. He was manifesting demons and felt very nauseated and I was led to lay my hands upon his spine and slowly move my hand UP while speaking in tongues. As I did this I felt pressure build up inside my spirit. When I got to the top of his spine, the demons bubbled up and out. He rejoiced and sang the old Alka Seltzer ad, "OH WHAT A RELIEF IT IS!" We all laughed with joy as it was very apparent on his face and demeanor how different he felt! Alka Sletzer makes bubbles in the tummy and helps someone burp. It often brings relief of bloating and nausea.
I have written several times about when the spirit of prophesy is manifest, often people's soul pimples will come to the surface and pop. What has been imbedded there comes up and out and often it is not a pretty scene. But as the person repents of all that has been manifest, they receive cleansing and deliverance and are able to close the demonic door that kept them captive from past wounds.
8/25/01 OUR HISTORY IN OUR SPINE
I had a vision where Bob Jones was drawing a graph of my spine. As he would touch my backbone with his hand, it would reveal my past to him. He showed me several places and times that had wounds. As Bob left me, he had a large handful of black arrowheads that he had dug from my back. I knew these were arrow heads from the enemy where I had taken hits. I was grateful to see them gone.
CLICK HERE TO READ, TO PARTNER IN PRAYER AND TONGUES FOR DELIVERANCE
PARABLE 9/24/16: Today I found some stuff called Bubble Up, it is foot washing powder that I put into a warm tub of water. I soaked my feet in it and it turned my toenails nice and white after being bare all summer. I was so delighted how easy it was and now white the nails looked.
WORD TO PONDER: THE EFFERVESCENT OF DELIVERANCE 9/11/16
Rejoice dear ones, those deep wounds that have tormented you for so long are going to be removed!! Up and out, even coming out with a shout! Oh what a relief it is! Great joy and even laughter shall fill your hearts as you see My power manifest with victory over demonic strongholds, tormented souls and bodies. Bring all that is unclean to Me and allow My Spirit to bubble forth to wash and cleanse you! I will tickle you with the fizzing of My Spirit. I will bring forth anything that needs to be removed and you will rejoice how simple it is, and how much joy this will bring into your life! Invite My power to come upon you dear ones, invite My cleansing work in your life.
Song of Solomon 4:10 How fair is thy love, my sister, [my] spouse! how much better is thy love than wine! and the smell of thine ointments than all spices!
Psalm 36:8-9 They shall be abundantly satisfied with the fatness of thy house; and thou shalt make them drink of the river of thy pleasures. 9 For with thee [is] the fountain of life: in thy light shall we see light.
Revelation 21:6 And he said unto me, It is done. I am Alpha and Omega, the beginning and the end. I will give unto him that is athirst of the fountain of the water of life freely.
[ CLICK HERE FOR PART TWO; HEBRAIC YEAR 5777 YEAR OF THE WEAPON]