12/04/16 INTERCESSORS: YOUR PRESCRIBED PATH
HEARD AND SAW:
A real choice, it matters. Purity. Obey when convicted. This is not about being convicted, it is about real change.
I saw a map being extended down from an airplane. It came all the way to the earth and down to the sidewalk. Your prescribed path, it's all set into motion with your obedience. I saw Donald Trump. The joy of raising up a son. He's got to stay safe. I saw a little spring green colored toy. He was one of those pliable figures that bends all over the place. He was laying in a lounge chair that was also bendable. Trump needs faith, you know that.
TO BE ESTABLISHED - TO BE SET UP FIRM
5/9/00: I WILL ESTABLISH YOU
I heard the Lord say, I am maturing you quickly. Setting you like concrete. As a confirmation, I turned in my Bible to this scripture: Now he which stablisheth us with you in Christ, and hath anointed us, is God;" (2 Cor 1:21) When I looked up the word Stablisheth in the Greek, it means to confirm the foot!
WORD TO PONDER: I WILL ESTABLISH YOU 5/09/00
Beloved, even though you feel unstable and insecure, I want you to know I will set your life like concrete. I will plant your feet firmly so that you will be strong and be able to stand. Your walk in Me will become firmly steadfast and sure. Do not fear Beloved, I AM the One Who establishes you. It is My promise.
2 Cor 1:21 AMP
But it is God Who confirms and makes us steadfast and establishes us [in joint fellowship] with you in Christ, and has consecrated and anointed us [enduing us with the gifts of the Holy Spirit].
WORD TO PONDER: STANDING THE GAP TO CONFIRM NEW BELIEVERS 12/04/16
Dear intercessors, I need My faithful ones to walk in the paths of righteousness and obedience. I will use your firm stand upon My convictions to grow newborns into the faith. Through your backing in prayer and righteous walks, I will rapidly grow them up as strong pillars in My kingdom. Yes, at first their levels of faith waver and are not firm. However, it is My work to establish every one of My own with strong, confirmed, validated, assured, settled faith that will become so rock hard it won't budge no matter what comes against it. Intercessors, you do your part and I will do Mine.
1 Thessalonians 5:24 Faithful is he that calls you, who also will do it.
1 Thessalonians 3:2 And sent Timothy, our brother, and minister of God, and our fellow worker in the gospel of Christ, to establish you, and to encourage you concerning your faith:
2 Thessalonians 3:3 But the Lord is faithful, who shall establish you, and keep you from evil.
1 Peter 5:10 But the God of all grace, who has called us unto his eternal glory by Christ Jesus, after that you have suffered a while, restore, establish, strengthen, settle you.
---
UPDATE 12/10/16 PAINTING – PRESCRIBED PATH
I painted the following picture in my art journal today and entitled it Prescribed Path.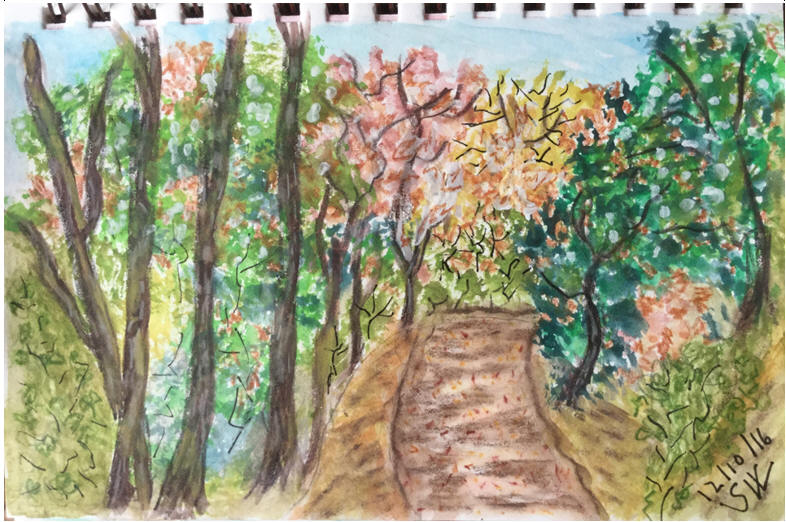 QWN MEMBER CONFIRMATION – WALK IN THE WAY OF GOD
I had a simple dream. There was a computer screen and an email being prepared. The body was blank. I don't think I was preparing the email. The subject line was: Walk in the way of God and in his light.
I also thought I had seen the phrases, "Walk in the way of God" and "In His light" in scriptures so I googled them and saw these scriptures...
Deuteronomy 5:33 (NASB) "You shall walk in all the way which the LORD your God has commanded you, that you may live and that it may be well with you, and that you may prolong your days in the land which you will possess.
12/12/16 QWN MEMBER CONFIRMATION – MAKING GOOD TRACTION UP THE MOUNTAIN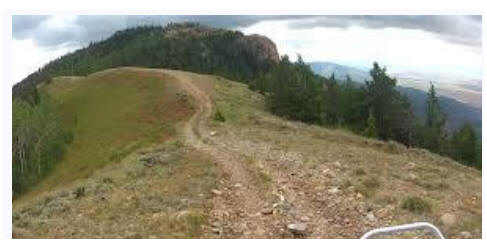 This morning during a time of praying and praying in the Spirit, I saw a vehicle made for terrain and rough driving areas. I saw it driving up a mountain. It was holding the path really well and the tires were making good traction as it moved steadily up the mountain. It was actually going very smoothly to be climbing up a rocky mountain.
The path became more narrow and winding as it went higher. The vehicle however was having no problems at all and was moving up and holding the path really well!
I knew that this could be a message for many of us. I felt very positive about this climb this time, seeing how it was climbing with such safety and ease. I sense that this is like an uphill climb for many of us, however this time it will not be the same as it has been, but we shall maneuver upwards with ease and good traction. I sense that many are on a new path/road that is taking us higher and this time it shall be with a greater ease and not burdensome. Indeed we are being called to come higher and the Lord has equipped us and given us the proper tools this time around to make the climb successfully! Praise You Lord!
Precious Ones, indeed this is a new path/road that is a higher way, and the Lord has given us everything that we need to make this climb in our ministry more smoothly, and to enter into His Presence and find rest for our souls! Come on Precious Ones, receive what the Lord has given you, it will indeed make everything move upwards and forward so smoothly!