RHEMA 5/26/13 TRIGGER POINT TRAUMAS AND TRAFFIC JAMS
HEARD: Traffic jam. Get ready for the password below.
WORD PUN PASSWORD = the Word to pass or get out of the traffic jam
PIX: I saw a hand with some keys.
HEARD: Here's the key for revival. Repentance. What will it take to change a nation? Testing, one two.
RHEMA 4/29/13 DIRECTING TRAFFIC THROUGH A STORM
PIX: I saw a huge super storm hurricane and then saw 2 skinned snakes on a pot.
HEARD: Strong meat.
Hebrews 5:14 But strong meat belongeth to them that are of full age, [even] those who by reason of use have their senses exercised to discern both good and evil.
VISION: I saw a man on a runway that was directing traffic for a departure of some type.
VISION: I accidently touched something that was a trigger point to an old trauma and I immediately winced and pulled back as though it was a snake.
HEARD: Reflex.
EXPERIENCE: I recently had an experience that caused a strange fear to grip my heart and then a deep emotional pain. I was shocked by it, not realizing it was there. I prayed about it and understood it was caused by a very painful time in my past that brought me into repentance and change. The Lord helped me to understand what had taken place that day and why the old trigger point had surfaced. Today as I was praying over it, the following parable took place:
PARABLE: JAMMED CIRCUITS NEED REACTIVATED
Today I clicked on the moderation que to accept new posts to the forum, the following robot sign pops up and I see that the forum is down.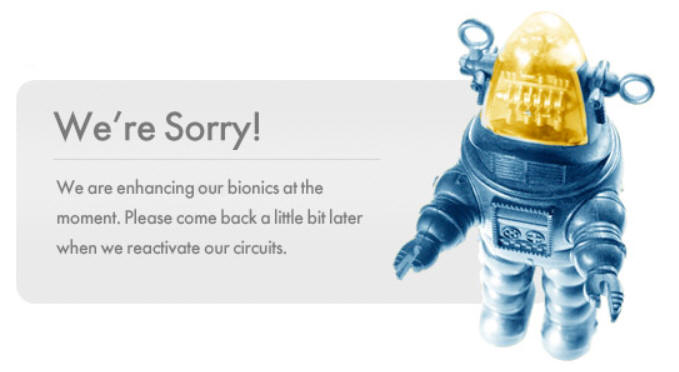 So I checked tech support and their website is down too. I wait about 5 seconds, clicked refresh and everything was back on line. I realized there must have been some secret update in their software that only took a few seconds for them to reboot, so they didn't announce it.
I went to my emails and found that the glitch I reported in their software had just been fixed. Later I find another tech support email that said, we've fixed the root of the issue here with menu items not always appearing in the proper order. Thanks for the bug report!
God is toooooo funny. Ok, so Lord please help me get back out of traffic jams and back into order.
UPDATE FROM QW MEMBER 6/02/13
At Les Scwab Tire store, I was looking at some cars and people, and they seemed to be on pause. They didn't move. I am not sure what that means, yet I sensed it was something in the spiritual.
It was like they were frozen in time. I snapped out of it when someone got my attention by asking a question.
WORD TO PONDER: TRIGGER POINT TRAUMAS AND TRAFFIC JAMS 5/26/13
Precious ones, I understand how hard it is when you have suffered extreme pressure or trauma from storms in your past. These tend to stay below ground, hidden until you get in close proximity to something that triggers a memory of that time in your life. You wince and pull back and find yourself facing old emotions that are painful. When you are not yet healed of such, it can cause you to be frozen in time and stuck in old emotional patterns.
When this happens, give that pattern to Me and ask Me to heal you. Often it is a simple matter of rebooting, just like your computer. Sometimes your circuitry gets overloaded with too much "stuff" and you need to dump the weight of old memories into My lap and then click reset.
Dear heart, you are a brand new person now. Repentance set you free, repentance changed you and now you walk in a new pair of shoes. Keep treading and keep the enemy's attempts to hinder your progress under your feet. Those old snakes are dead meat. Who is more than a conqueror? Through My love for you, YOU ARE.
Romans 8:33-39 Who shall lay anything to the charge of God's elect? It is God that justifies. 34 Who is he that condemns? It is Christ that died, yea rather, that is risen again, who is even at the right hand of God, who also makes intercession for us. 35 Who shall separate us from the love of Christ? shall tribulation, or distress, or persecution, or famine, or nakedness, or peril, or sword? 36 As it is written, For your sake we are killed all the day long; we are accounted as sheep for the slaughter. 37 Nay, in all these things we are more than conquerors through him that loved us. 38 For I am persuaded, that neither death, nor life, nor angels, nor principalities, nor powers, nor things present, nor things to come, 39 Nor height, nor depth, nor any other creation, shall be able to separate us from the love of God, which is in Christ Jesus our Lord.