RHEMA 12/04/12 WHAT TREASURE IS HOLDING YOU BACK?
HEARD: I am so sorry I could not run away with You.
[When I heard this, I felt great sorrow accompanying it, although I had no idea what it meant at that moment.]
[Lord what are You saying?]
INTO REMEMBRANCE: [The Holy Spirit brings into remembrance what He has spoken.] But the Helper, the Holy Spirit, whom the Father will send in My name, He will teach you all things, and bring to your remembrance all things that I said to you. John 14:26 26
The Holy Spirit bought these scriptures into my memory:
SS 1:4 Draw me away! We will run after you.
SS2:8,9
The voice of my beloved! Behold, he comes leaping upon the mountains, skipping upon the hills. 9 My beloved is like a gazelle or a young stag. Behold, he stands behind our wall; He is looking through the windows, gazing through the lattice. 10 My beloved spoke, and said to me: "Rise up, my love, my fair one, and come away.
HEARD: I stand at the door and knock. Footsteps. A powerful encounter. On our knees. Where are you taking us?
HEARD SONG: There is a river that flows deep within.
HEARD: Iím in here.
Deut 30: 11-14
For this commandment which I command you today is not too mysterious for you, nor is it far off. 12 It is not in heaven, that you should say, 'Who will ascend into heaven for us and bring it to us, that we may hear it and do it? ' 13 Nor is it beyond the sea, that you should say, 'Who will go over the sea for us and bring it to us, that we may hear it and do it? ' 14 But the word is very near you, in your mouth and in your heart, that you may do it.
Rom 10:8
But what does it say? "The word is near you, in your mouth and in your heart" (that is, the word of faith which we preach)
BREAK BREAD WITH SIMPLICITY 8/11/12
Precious ones, I hear your continual knocking for greater visions and experiences. You DO know they are coming and when they come, it will be in a season such as none has ever experienced. These will be for My purpose and yes I have placed it in your hearts to continue to pray for and pursue these things. Trust Me, I have heard EVERY request.
It is also important to Me that you learn to be content and abide in simple fellowship every day. The daily bread I give you is not only very near you, it is in your mouth and in your heart. I AM that close. You donít need to jump to heaven in order to find Me and experience great joys and comfort of fellowship by coming up here. I AM with you, I will never, ever leave you and I live inside of you. Let us continue daily in oneness, dwelling together in our temple. Let us break bread together with gladness and simplicity.
Acts 2:46-47
So continuing daily with one accord in the temple, and breaking bread from house to house, they ate their food with gladness and simplicity of heart, praising God and having favor with all the people.
I understood the above, that Jesus simply wants us to abide in Him and not try to jump to heaven. But I have been so deeply wanting access to come and go into the Spirit realm of heaven because I know it is available for our generation according to this promise:
Zech 3: 1-7 NKJV
Vision of the High Priest 1 Then he showed me Joshua the high priest standing before the Angel of the Lord, and Satan standing at his right hand to oppose him. 2 And the Lord said to Satan, "The Lord rebuke you, Satan! The Lord who has chosen Jerusalem rebuke you! Is this not a brand plucked from the fire?" 3 Now Joshua was clothed with filthy garments, and was standing before the Angel. 4 Then He answered and spoke to those who stood before Him, saying, "Take away the filthy garments from him." And to him He said, " See, I have removed your iniquity from you, and I will clothe you with rich robes." 5 And I said, "Let them put a clean turban on his head." So they put a clean turban on his head, and they put the clothes on him. And the Angel of the Lord stood by. The Coming Branch 6 Then the Angel of the Lord admonished Joshua, saying, 7 "Thus says the Lord of hosts: "If you will walk in My ways, And if you will keep My command, Then you shall also judge My house, And likewise have charge of My courts; I will give you places to walk Among these who stand here.
UPDATE FROM NEVILLE 12/07/12 YOUR LEVEL OF CONSECRATION
Neville shared his vision that lead me deeper into my question:
THE VISION OF THE BOND SERVANT
One more thing. I just sat down to watch the news and suddenly I am in another place. I am in a passport place in an airport. Passport control. I noticed the passport officer is an angel. I was thinking where is this airport? People were coming up and he would say ďPassport pleaseĒ and then said, no sorry you cant come through. He said but Iím a deacon. So I am getting further back now because I donít have a password. The next people came up and he said passport please, and they said we donít have a passport and the angel said show me your ear. He had a close look and said yes you can come through. And the door became translucent, like Stargate, a bit like that without the noise. And they walked straight through it. I thought wow, what is this place?
So the angel looked straight at me and said you. I thought here we go and I said I donít have a passport. And he said, Show me your ear. So I showed him my ear and he said you can go in. I said, whats on my ear? He said nothing, but there is a hole in it. And then it dawned on meÖ a bondservant!
I said whats behind that door? He said the heavenly realm, you can go in and out as you wish. I said try this out and I walked through it and Iím in heaven. I turned around and put my hand through and walked back out again and Iím in the passport place. I said Lord You are trying to teach me something here arenít you? He said the entrance into the heavenly realms He wants to open to us in a greater way, a much greater way. But youíve got to have a hole in your ear.
In the OT servants could work for a master for 7 years, but they could go free. But if the servant said I love it here, I love my family and love to be a part of this and want to be your servant forever, they said OK. They put the ear against the doorpost and the guy takes an awl, like a nail punch and then whack there is a big hole in your ear. And now you are a bonded servant.
There are 2 kinds of servants, there are servants and bond servants. The servants got paid wages and could do anything he wanted to do with them and do what he wanted to do what he wanted on his days off. He could marry anyone he wishes. But the bondservant he has a hole in his ear, it is an ear exclusively to his masterís voice. He is not paid any wages. But the master of the house will provide everything that he needs. He didnít have a day off. He could not just marry anyone, only whom the master approved for him. He cannot own anything. We own stuff and thatís alright, but we should keep it for the Lord, it is not ours. We hold it in trust for His purposesÖ. We are talking about a major consecration here.
QUICKENED SCRIPTURE: As I was still praying over these things, He brought to me the story about the guy who was sorrowing because he could not sell his stuff to follow the Lord.
Mark 10:17-22 NKJV
Now as He was going out on the road, one came running, knelt before Him, and asked Him, " Good Teacher, what shall I do that I may inherit eternal life?" 18 So Jesus said to him, " Why do you call Me good? No one is good but One, that is, God. 19 You know the commandments: 'Do not commit adultery, ' 'Do not murder, ' 'Do not steal, ' 'Do not bear false witness, ' 'Do not defraud, ' ' Honor your father and your mother. '" 20 And he answered and said to Him, " Teacher, all these things I have kept from my youth." 21 Then Jesus, looking at him, loved him, and said to him, " One thing you lack: Go your way, sell whatever you have and give to the poor, and you will have treasure in heaven; and come, take up the cross, and follow Me." 22 But he was sad at this word, and went away sorrowful, for he had great possessions.
Was Jesus telling us that in order to get into heaven we have to sell all of our stuff? No, Jesus was actually addressing the word TREASURE. He said that where our treasure is, there is our heart also. Jesus was addressing the manís heart and what held him back from freely following the Him.
Matt 6:19-21 NKJV
" Do not lay up for yourselves treasures on earth, where moth and rust destroy and where thieves break in and steal; 20 but lay up for yourselves treasures in heaven, where neither moth nor rust destroys and where thieves do not break in and steal. 21 For where your treasure is, there your heart will be also.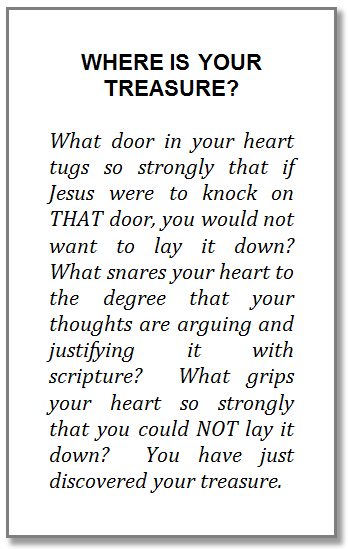 Every person has a different treasure. To some it might be eating candy, to some it might be owning a certain automobile. To another it might be a workaholic lifestyle. To another it might be watching ballgames or movies. To another it might be their yard. To another it might be buying stuff and hording. To another it might be lots of money and vacations. To another it might be sleeping. To another it might be not giving the Lord time. The list goes on and on and on and on. What desires do you spend most of your time, money and thoughts upon?
I am reminded of Bob Joneís experience when he died and went to heaven. The Lord showed him 2 lines of people, those going to hell and those going into the door of heaven. Those going to hell were wrapped inside the idols they served in life, with only their heads showing. These treasures became snares for them which eventually took their souls.
Psalm 106:36 NKJV
They served their idols, which became a snare to them.
Mark 8: 33-37 NKJV
33 But when he had turned about and looked on his disciples, he rebuked Peter, saying, Get thee behind me, Satan: for thou savourest not the things that be of God, but the things that be of men. 34 And when he had called the people unto him with his disciples also, he said unto them, Whosoever will come after me, let him deny himself, and take up his cross, and follow me. 35 For whosoever will save his life shall lose it; but whosoever shall lose his life for my sake and the gospel's, the same shall save it. 36 For what shall it profit a man, if he shall gain the whole world, and lose his own soul? 37 Or what shall a man give in exchange for his soul? 38 Whosoever therefore shall be ashamed of me and of my words in this adulterous and sinful generation; of him also shall the Son of man be ashamed, when he cometh in the glory of his Father with the holy angels.
GIVE
g1325. διδωμι didomi; a prolonged form of a primary verb ( which is used as an alternative in most of the tenses); to give ( used in a very wide application, properly, or by implication, literally or figuratively; greatly modified by the connection): ó adventure, bestow, bring forth, commit, deliver ( up), give, grant, hinder, make, minister, number, offer, have power, put, receive, set, shew, smite (+ with the hand), strike (+ with the palm of the hand), suffer, take, utter, yield.
EXCHANGE
g0465. ανταλλαγμα antallagma; from a compound of 473 and 236; an equivalent or ransom: ó in exchange.
AV (2)- in exchange 2;
that which is given in place of another thing by way of exchange what is given either in order to keep or to acquire anything
When we become bondservants to the Lord, we relinquish our rights to people, places, things - what is freely given to the just and unjust. We simply lay it all down before Him and give Him back all our rights. As Job said, the Lord gives and He takes away, blessed be the name of the Lord.
Job 1:21 NKJV
The Lord gave, and the Lord has taken away; Blessed be the name of the Lord.
Job was tested in those things. Few are testing as he was. However the Holy Spirit has a way of spotlighting exactly what door is lurking in our heart that steals our zeal, affection, time away from the Lord and what matters to Him.
Lord I know You grant us many promotions as we grow up and mature in You. Please give us grace to release things that hold us back from entering into Your kingdom and finally graduating into our next promotion in Jesus name. We give them over into Your care, knowing You give and take away and can give them back again when they no longer have a hold on our souls. Hallelujah!