RHEMA 9/17/13 TOUGH BOOTS FOR TOUGH TIMES
VISION: I saw a buckle on some boots latch down. The buckle was like the ski boots we used to wear.
I had rhema about freezing prior to this, so it made me think of cold circumstances.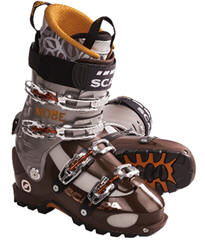 HEARD: Shoes of peace. Rest. The storms of life they come and go. I will keep you. If you need to prepare I will tell you. You are prepared, and then some. Just be watchful to know the times.
I will establish you, I promise. We can take this land. Demons tremble. Obedience is the key. You have learned your lessons well.
CONFIRMATION WAYNE 9/22/13 VISION: Wayne saw me buckling a big pair of boots. I was in my nightgown and pulled it up at the ankle to look at the boot. He said he felt they were definitely terrain boots for heavy work and walking. I told Wayne this reminded me that there used to be a lot of graphics floating around the internet of women in bridal dresses and combat boots that were entitled Warrior Bride. That was really quickened to him.
My nightgown has always represented a mantle of rest. So that is good news, learning how to walk and war from a Heb 4 resting place where the God of all peace crushes the enemy under our feet.
Heb 4 is hearing the Word of God and then simply believing it and entering/walking into it.
Hebrews 4:1-3 Let us therefore fear, lest, although a promise being left us of entering into his rest, any of you should seem to come short of it. 2 For unto us was the gospel preached, as well as unto them: but the word preached did not profit them, not being mixed with faith in them that heard it. 3 For we who have believed do enter into rest, as he said, As I have sworn in my wrath, they shall not enter into my rest: although the works were finished from the foundation of the world.
Hebrews 4:9-13 There remains therefore a rest to the people of God. 10 For he that is entered into his rest, he also has ceased from his own works, as God did from his. 11 Let us labor therefore to enter into that rest, lest any man fall after the same example of unbelief. 12 For the word of God is living, and powerful, and sharper than any two-edged sword, piercing even to the dividing asunder of soul and spirit, and of the joints and marrow, and is a discerner of the thoughts and intents of the heart. 13 Neither is there any creature that is not manifest in his sight: but all things are naked and opened unto the eyes of him with whom we have to do.
CONFIRMATION: Our grandson talked to us a couple days ago about wanting some boots toy that no matter what happened, the toy would always stand up and not fall over. I ordered him the fire truck with boots men.
WAYNE RHEMA 9/19/13 RUNNER TREAD
Wayne saw a black runner being rolled out very quickly were people would walk. It was the type runner that would give a person a firm grip as they walk. I was reminded of the word "tread."
Josh 1:3 NKJV
Every place that the sole of your foot will tread upon I have given you, as I said to Moses.
Deuteronomy 11:24 Every place on which the soles of your feet shall tread shall be yours: from the wilderness and Lebanon, from the river, the river Euphrates, even unto the western sea shall your territory be.
Josh 1:3 NKJV
Every place that the sole of your foot will tread upon I have given you, as I said to Moses.
Insert boot rhema
SOME TIME IN THE 80/90'S
HEARD: boots too big. Some day will fit.

=======
7/23/08 BOOTS
VISION: I saw my grandson in a pair of long black firemen boots. He was leaning over to touch them.
=======
9/07/10 GROWING UP INTO JESUS' STATURE
WAYNE VISION: Wayne saw an angel bringing him a pair boots. The boots were about 5 feet tall. He told Wayne to put the boots on and Wayne said he could stand up inside one boot by itself. But as he put his feet in the boots, the angel said that he would grow into them. As Wayne was watching, he began to grow in size until he could wear the boots. Now he was HUGE.
Ephesians 4:13 Till we all come in the unity of the faith, and of the knowledge of the Son of God, unto a perfect man, unto the measure of the stature of the fullness of Christ:
=======
9/24/13 WALKING INTERCESSOR
SCRIPTURE: Wayne came into my bedroom last night and started to talk about Abraham and shared this scripture with me.
Genesis 13:17 Arise, walk through the land in the length of it and in the breadth of it; for I will give it unto you.
[I was praying about that scripture I saw and heard:]
VISION: I saw the words in all CAPS: I WILL LIVE IT OUT AND PRAY.
HEARD: It's a Holy Ghost unction. There, now does that make sense? A walking intercessor. Smile.
WORD TO PONDER: TOUGH BOOTS FOR TOUGH TIMES 9/17/13
Dear ones, in cold and pressing times, I always equip you with exactly what you need to walk in peace. I want you to learn to rest in Me and rest in My Word. It is My desire that no matter what you see going on around you, that your faith remain established, you not fear and you walk in peace. Peace is one of your greatest weapons.
I will pave your way with strong gripping tread so that every place the soles of your feet shall walk, you shall not slip or stumble. You will walk in balance and with a steady grip for understanding your times. Wisdom and discretion shall become your friends as you seek Me to be wise as serpents and harmless as doves as you advance in unknown territory. No matter what circumstance you go through, you will always land on your feet with these boots of peace. Rest in Me dear ones, put on your boots and walk through all these circumstances in prayer. Live it, pray it, walk it according to the unction of My Spirit, and My peace shall crush the demonic plots under your feet.
Josh 1:3 NKJV
Every place that the sole of your foot will tread upon I have given you, as I said to Moses.