RHEMA 5/16/13 TO REACH HIGHER - LEARNING TO FLY
HEARD: If you can do this, we can do this too.
VISION: I saw this gigantic double portioned ferris wheel surrounded in lights that looked like 2 windmills circling side by side.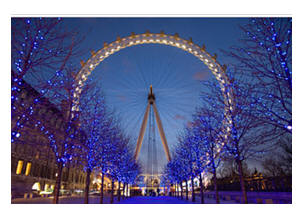 A Ferris wheel (also known as an observation wheel or big wheel) is a structure consisting of a rotating upright wheel with passenger cars (sometimes referred to as gondolas or capsules) attached to the rim in such a way that as the wheel turns, the cars are kept upright, usually by gravity.
HEARD: To reach for your degree. (to graduate/ be promoted.) A level of commitment and a deeper level of holiness.
WORD TO PONDER: THE WIND IS BLOWING 4/04/13
Beloveds, once again the wind of My Spirit is blowing. This wind is My double portion. I have asked you to wait upon Me and wait for direction and you have done well. I AM pleased. Like the burning bush when I called Moses to step aside and consider, I want to catch your attention and draw you to see the signs that My wind is blowing in a new direction.
See the signs of the movement of My Spirit. Like new born hatchlings that bonds with the first thing that moves, I will draw many children into the move of My Spirit and they shall learn to follow My wind, wherever it blows. I shall teach those with childlike faith how to be sensitive to My movement and they shall be brought into a new level of sensitivity beyond what their eyes and ears tell them.
John 3:8 NKJV
The wind blows where it wills, and you hear the sound thereof, but cannot tell from where it came, and where it goes: so is everyone that is born of the Spirit.
WORD TO PONDER: TO REACH HIGHER - LEARNING TO FLY 5/16/13
Dear heart, listen to My ways of how I lead you, instruct you and keep you. Just as an eagle takes her young up and bears them on its wings, so I have taught you. I carry you and lift you up to ride in the high places, that you might increase in the revelation of My glory and anointing and all that I AM doing in the earth. I teach you to ride on the backs of My holy prophetic Word until you can fly on your own.
As you receive My Word, it carries you up, up, up in faith and it is there you see and are given understanding. You drink in all that your eyes can drink, and then you cycle and wait upon Me as you ponder and chew the height of that revelation that brings you to a deeper level of commitment to Me. Yes dear hearts, the longer you wait in between Words, it is a test of your faith to remain in the high places. Every time you are lifted, you are refreshed and encouraged, hope is kindled and you are given the understanding and wisdom to walk deeper in Me. We continue this same cycle until your faith and commitment is so strengthened that you are able to flap your wings of faith and fly on your own.
Deuteronomy 32:10-13 He found him in a desert land, and in the wasteland of the howling wilderness; he led him about, he instructed him, he kept him as the apple of his eye. 11 As an eagle stirs up its nest, flutters over its young, spreads abroad its wings, takes them, bears them on its wings: 12 So the LORD alone did lead him, and there was no strange god with him. 13 He made him ride on the high places of the earth, that he might eat the increase of the fields; and he made him to suck honey out of the rock, and oil out of the flinty rock.