8/18/17 SURROUNDED AND PROTECTED
With all of the news regarding North Korea, I have joined multitudes who have been praying around the world that WW3 would not start and that the Lord would snuff out the weapons of destruction that are intimidating us and that He would save souls and raise up intercessors to pray! This is a vision I had last month:
7/30/17 CHARIOT RIDERS
While I was laying in bed with my eyes closed I had a vision of some angels in heaven. They were sitting and riding in white chariots and the horses were white also and they were definitely on the move. The angels had on Roman helmets with red feathers on their heads. I wondered why they had Roman looking helmets on. Possibly due to a battle. They had some type of armor on their front.
NUCLEAR MISSILES – BESET AND UNDER HIS FEATHERS
Heard and Saw:
Incoming. Nuclear. I saw it was "snowing" outside our bay window next to Wayne's chair and then I realized it was nuclear fallout.
CONFIRMATION HEDGED IN, ENCLOSED
At the same time I saw the "snow" I was listening to Psalm 139 on my itouch and it was on this scripture and I knew the Lord was saying that He had surrounded us and we were protected.
Psalm 139:5 You have hedged me behind and before, and laid your hand upon me.
HEDGED
Strong's Hebrew Dictionary
6696. צוּר tsuwr (tsûwr)
Search for H6696 in KJVSL; in KJV.
צוּר tsûwr, tsoor
a primitive root; to cramp, i.e. confine (in many applications, literally and figuratively, formative or hostile):—adversary, assault, beset, besiege, bind (up), cast, distress, fashion, fortify, inclose, lay siege, put up in bags.
Verb
So I prayed, He who dwells in the secret place shall dwell under the shadow of the almighty. I will not be afraid of the missiles by night or the arrows by noonday!
I colored in my journaling Bible and did a Word study on several of the words in Psalm 91.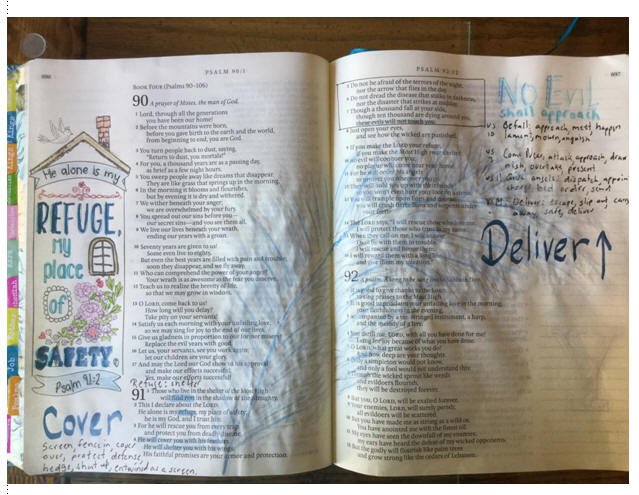 Then the next morning as I went into the game room, my eye immediately landed on a big white feather that was on one of my evergreen trees by the woodstove. I heard I am protecting you.
Psalm 91:1-16 He that dwells in the secret place of the most High shall abide under the shadow of the Almighty. 2 I will say of the LORD, He is my refuge and my fortress: my God; in him will I trust. 3 Surely he shall deliver you from the snare of the fowler, and from the deadly pestilence. 4 He shall cover you with his feathers, and under his wings shall you trust: his truth shall be your shield and buckler. 5 You shall not be afraid for the terror by night; nor for the arrow that flies by day; 6 Nor for the pestilence that walks in darkness; nor for the destruction that wastes at noonday. 7 A thousand shall fall at your side, and ten thousand at your right hand; but it shall not come near you. 8 Only with your eyes shall you behold and see the reward of the wicked. 9 Because you have made the LORD, who is my refuge, even the most High, your habitation; 10 There shall no evil befall you, neither shall any plague come near your dwelling. 11 For he shall give his angels charge over you, to keep you in all your ways. 12 They shall bear you up in their hands, lest you dash your foot against a stone. 13 You shall tread upon the lion and adder: the young lion and the serpent shall you trample under feet. 14 Because he has set his love upon me, therefore will I deliver him: I will set him on high, because he has known my name. 15 He shall call upon me, and I will answer him: I will be with him in trouble; I will deliver him, and honor him. 16 With long life will I satisfy him, and show him my salvation.
ANGELS SURROUNDING
As I pondered this rhema I remembered another vision I had a couple months ago:
6/26/17 SECURE AND NOT FORSAKEN WITHIN A SMALL CONSTRAINED PLACE
A valiant daughter. Do not be afraid. I am with you. I have not forsaken you. We are all here.
I saw I was in a tight difficult place. Suddenly a group of about 5 male angels encircled me really close. They were each standing shoulder to shoulder completely surrounding me so that I would be concealed and protected inside their ranks. Even though I was in a small constrained place, I felt secure. I heard one of them say We are still here, we have not forsaken you.
Psalm 34:6-7 This poor man cried, and the LORD heard him, and saved him out of all his troubles. 7 The angel of the LORD encamps round about them that fear him, and delivers them.