11/08/17 RETURN TO YOUR RESTING PLACE
HEARD:
Renewed commitment.
[I was sick last week and ate way too many carbs and little protein. That in turn increased my appetite and I have been struggling to keep it in reign. My pants were tight yesterday so last night I chose to try again with my eating plan.]
Today I felt like I had returned to my resting place in the Lord and pondered the fact I had heard the word, Commitment last night. As I was doing art in my Inspire art Bible, I came to this scripture and it was quickened to me.
Jeremiah 50:6 My people have been lost sheep: their shepherds have caused them to go astray, they have turned them away on the mountains: they have gone from mountain to hill, they have forgotten their resting place.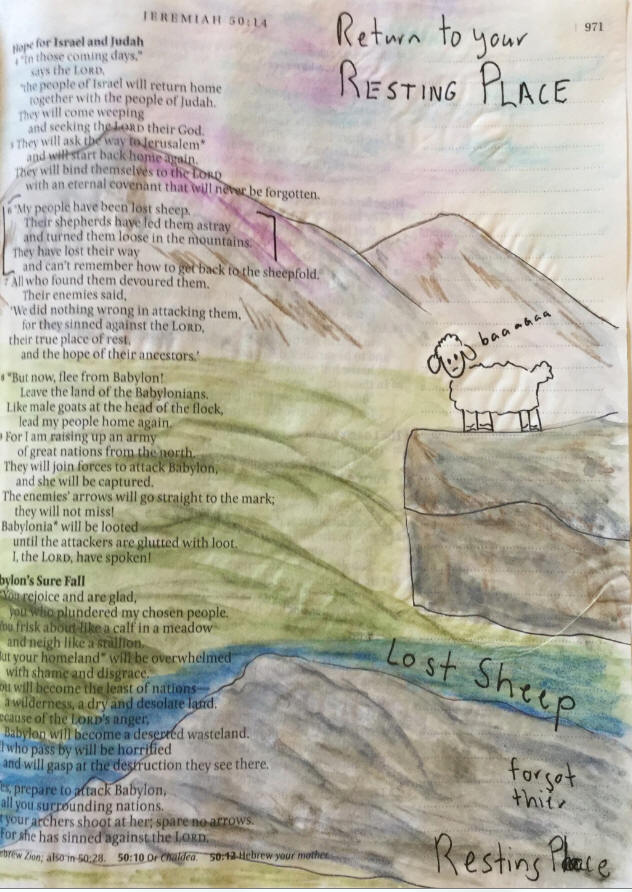 When I typed in the phrase "resting place" into my rhema database this entry came up. I knew it was a confirmation that commitment makes a difference to our being able to rest in the Lord.
12/16/96: RESTING PLACE
Commitment. Called. Watchman. Defeat the enemy. Arms. Forgotten her resting place. Assurance. Placement where it counts.
9/28/17 RETURN TO YOUR RESTING PLACE
Where are you at in un-rest? Be still sweetheart. That's how you do it. Return to your resting place. These things matter. You matter.
WORD O GRAM REST 11/08/17
Reassurance brings peace.
Enter in and listen.
Surely He is with you.
Trust in His loving care.
Hebrews 4:1-12 Let us therefore fear, lest, although a promise being left us of entering into his rest, any of you should seem to come short of it. 2 For unto us was the gospel preached, as well as unto them: but the word preached did not profit them, not being mixed with faith in them that heard it. 3 For we who have believed do enter into rest, as he said, As I have sworn in my wrath, they shall not enter into my rest: although the works were finished from the foundation of the world. 4 For he spoke in a certain place of the seventh day in this way, And God did rest the seventh day from all his works. 5 And in this place again, They shall not enter into my rest. 6 Seeing therefore it remains that some must enter into it, and they to whom it was first preached entered not in because of unbelief: 7 Again, he limits a certain day, saying in David, Today, after so long a time; as it is said, Today if you will hear his voice, harden not your hearts. 8 For if Joshua had given them rest, then would he not afterward have spoken of another day. 9 There remains therefore a rest to the people of God. 10 For he that is entered into his rest, he also has ceased from his own works, as God did from his. 11 Let us labor therefore to enter into that rest, lest any man fall after the same example of unbelief. 12 For the word of God is living, and powerful, and sharper than any two-edged sword, piercing even to the dividing asunder of soul and spirit, and of the joints and marrow, and is a discerner of the thoughts and intents of the heart.
WORD TO PONDER: RETURN TO YOUR RESTING PLACE 11/08/17
Dear heart, you have forgotten their resting place. You were dislodged from your refuge through outside circumstances and took flight while waiting for deliverance. Return now precious, renew your commitment to Me and obedience to My Word! I have heard your cries and through My loving merciful kindness, I AM sending deliverance angels to seek you who feel lost and bring you back to peace.
I declare Shalom over your bodies, Shalom over your minds, Shalom over you souls! Return to your safe place, your place of health and rest for your souls dear ones! Your resting place is always in Me and hearing My Word. Your resting place is in believing Me. I have promised those who seek Me WILL find Me. I AM not lost. I have never left you. Be still and know Me. Be still and listen to Me. Return and be comforted dear ones!
Isaiah 30:15 For thus says the Lord GOD, the Holy One of Israel; In returning and rest shall you be saved; in quietness and in confidence shall be your strength: but you would not.