11/05/14 REST WITH LIGHTER WALK AND lighter weight
This was a FUN riddle!
HEARD RIDDLE: It fits. Answer to prayer. Closet. Decisions. Light right.
VISION: I saw 2 doves sitting over 2 closet doors.
HEARD: It takes a whole newspaper complete with classified ads.
As I pondered the closet, I immediately thought of my clothes closet. I gained weight this year due to flares and prednisone and my clothes are tight. I cant stand wearing tight clothes and have been asking the Lord for help to lose the weight I gained so they will fit again.
WORD PUN: Light right.
After seeing the vision of the 2 doves sitting over the closet doors, I realized that doves do not land (alight) on anything unless it is a resting place with no striving. When we strive against what we know is the right decision, we are not at peace. When we align with God and say YES to His way, we finally find that peace and the dove of His Presence will find a resting place and anoint us to do His will and make the right choices. I have cut out all sugar, changed my bowl size and am walking more and that is working for me.
Hebrews 12:1 Therefore seeing we also are surrounded with so great a cloud of witnesses, let us lay aside every weight, and the sin which does so easily ensnare us, and let us run with patience the race that is set before us,
WORD TO PONDER: HOW'S YOUR LUGGAGE COURSE? 6/25/04
Dear one, I AM watching you from heaven's portholes and see all your hopes and dreams. I have seen the accumulation of your years and all that you hold dear. I have heard your yearnings and am intimately acquainted with all your ways.
Beloved, you are prepared to walk through the door of your new beginnings. Everything in your life has prepared you for this time. Because of My grace, you have what it takes to get you through your door. You may feel like your life is falling apart and hanging out all over. Just trust Me, that no matter how harried your condition is when you go through that door, your joy shall burst forth after all the years of restraint.
However, in order to continue through to your destiny, you must let go of the excess baggage. I want you to travel lightly so that your journey will be free and unhindered. I yearn for your joy to remain as you pursue your places in Me. This will require some paring down of what you carry, some rearranging and some decisions about your priorities. It may require some surgery to your body, soul or spirit to drop the weight that so easily besets you and run the race with great grace. So consider well the door that stands before you and enter in with joy.
Heb 12:1-2a NLT
Therefore, since we are surrounded by such a huge crowd of witnesses to the life of faith, let us strip off every weight that slows us down, especially the sin that so easily hinders our progress. And let us run with endurance the race that God has set before us. We do this by keeping our eyes on Jesus, on whom our faith depends from start to finish.
11/21/14 HILARIOUS CONFIRMATION! Today I am harvesting rhema and put the above in the file (including the luggage graphic) to be posted on line. Imagine my JOY when I opened my emails and someone from the QWN had posted the following WordPicture at the forum!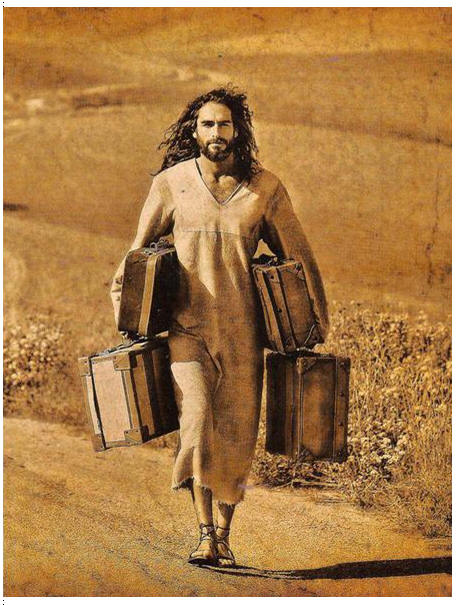 Isaiah 46; 4, Even to your old age & gray hairs I am He, I am He who will sustain you, I have made you and I will CARRY you, I will sustain you and I will RESCUE YOU.
WOW ANOTHER APPLICATION TO THE RIDDLE
This is so precious to me! This morning Wayne and I prayed asking the Lord to help me decide what to post to the QW. When I was younger I had a hard time deciding what to wear when I opened my closet. It is much easier when there are only a few things that fit, smile! Incidentally, the word enduement means to put on clothing!
Luke 24:49 And, behold, I send the promise of my Father upon you: but tarry you in the city of Jerusalem, until you are endued with power from on high.
ENDUED
Strong's Greek Dictionary
1746. ενδυοω enduo
Search for G1746 in KJVSL
ενδυοω enduo en-doo'-o
from 1722 and 1416 (in the sense of sinking into a garment); to invest with clothing (literally or figuratively):—array, clothe (with), endue, have (put) on.
<<It fits. Answer to prayer. Closet. Decisions. Light right. I saw 2 doves sitting over 2 closet doors. It takes a whole newspaper complete with classified ads.>>
Adding to this riddle is the struggle I have trying to decide what to post from my rhema as public Words. My monthly journals are anywhere from 100-150 pages long of studies and such and I only post about 1/3rd of that. When God sends confirmations through the QWN it is much easier to decide!!! I believe this rhema is saying that the Lord is carrying me and all the weight I am bearing with ministry and He is using the whole newspaper staff at the QWN forums to help me! Smiles.
WORD TO PONDER: DECISIONS ABOUT THE WEIGHT YOU CARRY 11/05/14
Dear ones, I understand the loads you are carrying in life. I understand how complicated your life is when it comes to making decisions and trying to keep the right balance in the right place, in the right time, in the right path! As you continue to give me your burdens and grant Me access to carry them, I have great JOY in helping you lighten your load. I will impart to you My same joy as you start getting rid of the excess and make your load lighter and lighter! Let go, simplify, delegate, unclutter; give all to Me dear one! I want you to walk in freedom and I AM all about carrying you and carrying your burdens.
Psalms 55:22 Cast your burden upon the LORD, and he shall sustain you: he shall never permit the righteous to be moved.