RHEMA 4/05/13 REMOVING BITTERNESS FROM PAST BETRAYALS
Yesterday when I was cleaning out the fridge:
heard: I am removing the bitterness.
James 3:8-12 But the tongue can no man tame; it is an unruly evil, full of deadly poison. 9 With this bless we God, even the Father; and with this curse we men, who are made after the similitude of God. 10 Out of the same mouth proceeds blessing and cursing. My brethren, these things ought not so to be. 11 Does a fountain send forth at the same place sweet water and bitter? 12 Can the fig tree, my brethren, bear olive berries? either a vine, figs? so can no fountain both yield salt water and fresh.
=======
RHEMA 4/11/13 A BURDEN FOR A CLEAR REFLECTION OF JESUS
HEARD: You will cleanse us by the washing of the Word.
Ephesians 5:26-27 That he might sanctify and cleanse it with the washing of water by the word, 27 That he might present it to himself a glorious church, not having spot, or wrinkle, or any such thing; but that it should be holy and without blemish.
vision: I saw crystal clear water from a pitcher being poured through a filter.
HEARD: Bitter. I cant see any. Its a clear glass. Reflection.
2 Corinthians 3:18 But we all, with unveiled face beholding as in a mirror the glory of the Lord, are changed into the same image from glory to glory, even as by the Spirit of the Lord.
HEARD: Lets talk about life and death for a minute.
Proverbs 18:21 Death and life are in the power of the tongue: and they that love it shall eat the fruit thereof.
THE SWORD OF THE LORD AND ABUSE 1/16/11
I AM grieved over the mouths of My people. I hear betrayal, judgment and character assassination coming from their lips. I hear voices from podiums being used as angry catharsis, temper tantrums and railings upon My sheep. I hear parents, children, and couples caught in abusive cycles of argument and strive. I hear all manner of speaking in rude, crude carnality. ... And yet My people are crying out for the rod of authority to heal and deliver...
The Sword of the Lord is sharp with 2 edges. If you use it illicitly, it will cut you in return. I AM training My people to use the sword of their mouths to release My Word into the earth, and release the captives. To use My sword for self-defense and catharsis is abuse.
Heb 4:12-13 NKJV
For the word of God is living and powerful, and sharper than any two-edged sword, piercing even to the division of soul and spirit, and of joints and marrow, and is a discerner of the thoughts and intents of the heart. 13 And there is no creature hidden from His sight, but all things are naked and open to the eyes of Him to whom we must give account.
EXPERIENCE: I had listened to someone's testimony of having been betrayed and then stolen from due to sin. The person's penalty was really a heavy one and it was encouraging to hear about the restoration in this person's life. However I was grieved to hear the bitterness and type of things this person spoke about the betrayers who had been friends in the house of the Lord. It was so bad, it became very obvious that this person had a root of bitterness. I began to pray over this, because after seeing it so clearly, I could then hear how this root was affecting not only other misc words the person was saying but also the ears of the hearers. I felt like there was unintended poison being poured out and it made me so sad. I really began to take this to prayer.
Zechariah 13:6 And one shall say unto him, What are these wounds between your hands? Then he shall answer, Those with which I was wounded in the house of my friends.
=======
RHEMA 4/12/13 INTERCESSION OVER BITTER BETRAYAL IN THE CHURCH
HEARD: Arugula. I will heal, I promise. Decision. Arugula caustic. I am not going through this a second time.
Arugula is bitter salad greens. When bitter greens are served in a salad, the way to counteract the bitterness is to use either sour vinegar or lemon juice as a dressing. I am reminded that when Jesus was on the cross, He was offered vinegar, so dull the pain and He refused. And when the Israelites took the Passover, they had bitter herbs to remind them of their days of captivity.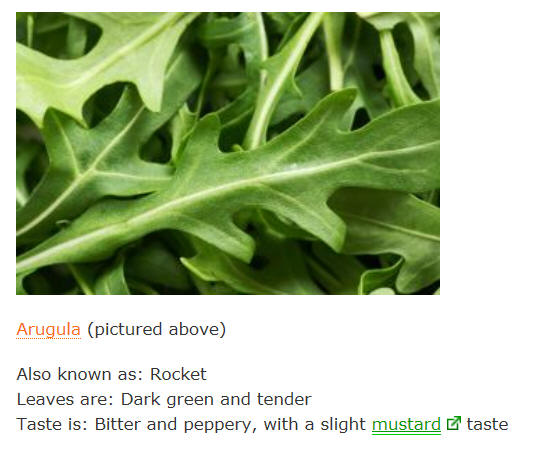 International Standard Bible Encyclopedia
BITTER HERBS
hurbs, or urbs (merorim): Originally in the primitive Passover (Ex 12:8; Nu 9:11) these were probably merely salads, the simplest and quickest prepared form of vegetable accompaniment to the roasted lamb. Such salads have always been favorites in the Orient. Cucumbers, lettuce, water-cress, parsley and endive are some of those commonly used. Later on the Passover ritual (as it does today) laid emphasis on the idea of "bitterness" as symbolical of Israel's lot in Egypt. In modern Palestine the Jews use chiefly lettuce and endive for the "bitter herbs" of their Passover. In La 3:15 the same word is used: "He hath filled me with bitterness merorim, he hath sated me with wormwood." Here the parallelism with "wormwood" suggests some plant more distinctly bitter than the mild salads mentioned above, such, for example, as the colocynth (Citrullus colocynthus) or the violently irritating squirting cucumber (Ecballium elaterium).
VISION: I was in a room where a pastor was strongly rebuking those who had walked very close to him. I felt they were his staff or perhaps friends of some sort. He said he refused to go through this a second time and began to rebuke each one of them individually. Then I saw him with only the top half of his body moving around on the ground without legs so he was only half the man he once was. These people had somehow cut off his legs. He was unable to stand and had been cut in half through betrayal, division, judgments, slander, criticism, etc.
The tension in the room was very sober and tense and it was so strong I could no longer watch, so I turned towards the window and peered outside, all the while praying in my mind that the Lord would heal the bitterness and anger and wounds of the past. I began to sing a song: "To Him Who sits on the throne and unto the Lamb, Be all blessing and honor and glory and power forever! There was a gracious person (probably an angel) in the room who came over to me and politely said that he could feel the anointing when I sang that phrase and asked if I would play it on the keyboard. So I went over to the keyboard and played the song and sang it from the depths of my heart. I felt it was changing the tension of the atmosphere in the room.
HEARD: He heard that, the sound of your music coming through the atmosphere. Heated argument right under the surface. I heard that heavenly music and it melted my heart. Gratefulness.
[I wondered if this vision was due to my burden the day before where I prayed for a different person who had suffered very similar to this pastor.]
PIX: I saw someone coming and delivering a pie. It was humble pie and somehow related to an intercession going on about argument and strife.
HEARD: Fellowship comes at a cost. Humble. This has been in the church. Deep betrayal.
RHEMA 2/01/13 WALK AWAY FROM BITTER WORDS
Wounded. Bitter. Caustic. Arugula crossfire. Walk away.
RHEMA 2/03/13 BITTER
I saw the ingredients for a salad. Salad. Arugula. My scar bill is tremendous. Don't mess with it.
HEARD: This is the days when the good, bad and ugly appear. Root of bitterness.
RHEMA 4/07/13
It's a day of reckoning, both good and bad. Revelation 3.
Rev 3:1
And to the angel (messenger) of the assembly (church) in Sardis write: These are the words of Him Who has the seven Spirits of God [ the sevenfold Holy Spirit] and the seven stars: I know your record and what you are doing; you are supposed to be alive, but [in reality] you are dead.
---
WORDS TO PONDER REGARDING BETRAYAL
MY FRIENDS 3/06/04
Some will betray Me. Some will compromise and some will be faithful all the way. Yes My love, it has been that way since the beginning...
And even when I already knew the outcomes, I chose to love. And even so it is the same with My gifts and callings. They are irrevocable…
Yes precious one, now you know. I have given you a glimpse into Mine own heart. How I long for friends, just like you do! How I long to be one of those, just as you call them. - kindred hearts. How it melts My heart when I see them suffer because they love Me and continue to choose to love Me no matter what. I AM all powerful, all knowing and always present. I always was and always will be. And yet only you can give Me volunteer love. And now you know. How I feel.
John 15:13 NKJV
Greater love has no one than this, than to lay down one's life for his friends.
MAKE ROOM FOR JOSEPH 9/21/04
Like Joseph, you went into captivity when you shared your dream with your brethren. Your innocent trust was betrayed and you have suffered years because of this. Dear one, what the enemy intended for evil, I meant it for good. I allowed the circumstances in your life to train and prepare you for this day. Yes it is time. Walk out of captivity and share your wealth. The many gifts I have given you will make a way for you. You will have fellowship and replacement of what you have lost. All that you have will be cherished and no longer scorned. I shall honor you with My mantle, My delegated authority and glory. Go now and become the deliverer who I have promised you to be. Provide for and set My people free.
Prov 18:16 KJV
"A man's gift maketh room for him, and bringeth him before great men."
Gen 41:40-43 NKJV
"And Pharaoh said to Joseph, "See, I have set you over all the land of Egypt." Then Pharaoh took his signet ring off his hand and put it on Joseph's hand; and he clothed him in garments of fine linen and put a gold chain around his neck."
UPROOTING THE BITTER ROOT OF A DIVIDED HOUSE 2/03/08
All over the world My people have suffered the deep, bitter pain of a house divided. When resources have dwindled, when children leave the nest, when friends move, when a loved one dies, when betrayal works its rending, when opinions clash, when marriages fail .... all of these and more are the painful wounds of a house divided. Many who have gone through this deep rending, have bitterroots that have grown up along the good fruit. The crop is now full and I AM sending My angels to go out among the hearts of men and uproot the bitter root of a divided house.
Dear precious ones, when it comes time to uproot this bitter root, it will come out through weeping and acceptance. I know this is very, very hard, but as you offer up the pain of your soul of feeling abandoned and alone, I will wash you with My Presence as I rain upon your tears and cleanse your soul. As you look at the rending and accept that even in the worst case of failure, I have allowed this for your good, it will give you grace to swallow the bitter cup.
When within the deepest agony of bitter tears, you are able to look up into My own wet face and be honored and thankful to have suffered for My will in your life, then you will know the final resting place and depths of a cleansed heart without a bitter root. You will know My sweetest release and understand My love is bittersweet agony.
Mark 10:38-40 NKJV
But Jesus said to them, "You do not know what you ask. Are you able to drink the cup that I drink, and be baptized with the baptism that I am baptized with?" 39 They said to Him, "We are able." So Jesus said to them, "You will indeed drink the cup that I drink, and with the baptism I am baptized with you will be baptized;
when you are betrayed 11/07/09
I was betrayed and how deeply I understand the pain. I knew ahead of time that I would be betrayed and I understood whose heart was not right. My Father kept nothing from Me. Even so I tell you that a servant is not greater than his master. If they persecuted Me, they will you too. You are called to be an overcomer as you walk in My footsteps.
One of the strongest weapon you have is overcoming evil with good. Pray for those who are not innocent and who despitefully use you. As you walk purely before Me, I hear your prayers for those whose hearts are not right. As you forgive them and pray for them, I will hear your heart's desires that they come into My image and repent of their deeds so that My kingdom will come to pass in their lives.
Ps 41:9 NKJV
Even my own familiar friend in whom I trusted, who ate my bread, has lifted up his heel against me.
Job 22:30 AMP
He will even deliver the one [for whom you intercede] who is not innocent; yes, he will be delivered through the cleanness of your hands.