RHEMA 6/16/13 DELIVER AND RELEASE MY BURDEN
HEARD: We've got to have His Word in order to move on.
VISION: I saw the pepsi can lid popped open and deflated all the pressure.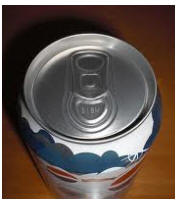 COMMENT: Sometimes when I receive the Word of the Lord, I experience a growing fullness in my spirit that I have GOT to deliver the message. If I wrestle with delivering that Word, then the burden expands until it is ready to explode like a pepsi can. And it is such a relief after I deliver His Word.
Zech 12:1 AMP
The burden or oracle (the thing to be lifted up) of the word of the Lord concerning Israel: Thus says the Lord, Who stretches out the heavens and lays the foundation of the earth and forms the spirit of man within him:
OT:4853
massa' (mas-saw'); from OT:5375; a burden; specifically, tribute, or (abstractly) porterage; figuratively, an utterance, chiefly a doom, especially singing; mental, desire:
KJV - burden, carry away, prophecy, they set, song, tribute.
(This word is used 65 times in the OT)
HEARD: Follow through. Accomplished. Move on! Come to our daily bread.
PIX: I saw the word DAILY was underlined.
HEARD: The full meal deal.
HEARD: That's My Word sweetheart. I am so proud of you. It is not your concern how it is received. I have given you the heart to heed My call. I will back you. It's a good gift. Strong medicine.
IMPRESSION: I had an impression of Bobby Conner shouting BE BOLD to me!!!
PIX: I saw a green ticket and it reminded me of a get out of jail card.
WORD TO PONDER: DELIVER AND RELEASE MY BURDEN 6/16/13
Precious ones, thank You for carrying My burden and delivering My Word. You are My mouth and My heart and it gives me much pleasure when you are prompt to respond to heed My call. I do understand it is sometimes harder to deliver because of the message, but always remember it is not your message. You are simply the mail man. Allow Me to reveal the fullness of My Word to the recipient and do not carry the burden of how it is received. I promise to back you. You will experience your own deliverance and healing as you liberally share without hesitation.
John 9:4-5 NKJV
I must work the works of Him who sent Me while it is day; the night is coming when no one can work.
Eccl 9:10 NKJV
Whatever your hand finds to do, do it with your might; for there is no work or device or knowledge or wisdom in the grave where you are going.
Eph 5:16 NKJV
Redeeming the time, because the days are evil.