TEACHING: REACHING OUT TO A PERSON THROUGH THE GIFT OF HELPS 7/16/16
This year I was out of town with my Mom and we were sitting in a restaurant parking lot waiting for some friends to join us. I gasped as I saw an elderly man fall down into the bushes! As I hobbled over there to help him up, he was struggling to use the bushes and his cane to help him up. At the time I was limited physically so I told him I would stand there like a tree and he could use me to help pull himself up. As he aligned himself for this, I told him I was going to put my arms out like a fork lift and that I couldn't actually lift him but I could support him as he lifted himself. As I think back on that experience it was a PERFECT description of the gift of helps! We can't be someone's savior but we can offer what we have and God will do the rest.
In the Greek, the gift of helps means to take hold of, succor (rescue, assist, aid, relief), participate, help, partaker, support.
When this elderly man got to his feet, since my arms were out like a fork lift we were facing each. I love to hug people so I pulled my arms in and hugged him. I said, "Oh Lord Jesus bless him and strengthen him, in Your precious Name!" And then I let him go. I could tell he was so befuddled at the hug and prayer that he didn't know what to do. I stepped back matter-of-factly, made sure he was OK and told him he had done a great job of getting up. I saw him later in the restaurant and he smiled at me so sweetly. His wife thanked me. That incidence touched me probably more than it touched him. My heart was melted to be able to help someone in such a practical way, accompanied by a simple prayer.
1 Corinthians 12:28 And God hath set some in the church, first apostles, secondarily prophets, thirdly teachers, after that miracles, then gifts of healings, helps, governments, diversities of tongues.
HELPS
Strong's Greek Dictionary
484. ἀντίληψις antilepsis (antílēpsis)
Search for G484 in KJVSL; in KJV.
ἀντίληψις antílēpsis, an-til'-ape-sis
from G482; relief:—help.
feminine noun
FROM A ROOT WORD MEANING:
Strong's Greek Dictionary
482. ἀντιλαμβάνομαι antilambanomai (antilambánomai)
Search for G482 in KJVSL; in KJV.
ἀντιλαμβάνομαι antilambánomai, an-tee-lam-ban'-om-ahee
from G473 and the middle voice of G2983; to take hold of in turn, i.e. succor; also to participate:—help, partaker, support.
verb
When the Lord brings a person to our attention and we see the need, often He has already put His answer in our heart. Frequently this is very simple and natural because it is a gift He has already imparted into us through the gift of helps.
I happen to know that I really enjoy seeing things lined up and in order. I love things to be organized and that is a part of my innate person. I enjoy putting grocery carts away. Sometimes when the cart slot can't hold any more carts, I will rearrange the carts so they all fit together and more can be added. It is a part of my natural gifting to do this and it is an act of goodness that is considerate and helpful to others' needs.
For years my Mom takes wet towels and wipes the counters clean in public bathrooms! To some that might be the last thing they would want to do or even think of doing. But trust me, living under her roof for 18 years I know she likes clean counters! And she likes them polished. Smile. I am sure the Lord smiles down upon her observes all these things! God sees these things when we do good things and no one knows.
THE GIFT OF HELPS IN REACHING OUT TO PEOPLE
For many years I heard prophets say that the church would be used as a light during dark times in the world. The time is now and it is not only in supernatural experiences, but also through practical examples of sharing God's love. One of these practical ways is through the gift of helps. This gift is being raised up as one of God's main tools of evangelism in reaching people with His love.
The gift of helps is coming along side of to support, assist, give relief, aid. When we do it in the name of Jesus, this has a powerful impact for people who are suffering.
QUOTE CHUCK PIERCE: In the past we have helped give Psalm 91 Bandanas to numerous groups – including U.S. troops in Afghanistan, Israeli soldiers, and first responders here in Corinth. Earlier this year, we also sowed into providing Psalm 91 Bandanas to Dallas Police chaplains, captains and leaders. With the recent deaths of five Dallas police officers, we were approached by Jill Boyce of Not Afraid for an additional donation to help with providing enough bandanas for all of the more than 3,500 Dallas Police officers. In the interest of time, we have already sowed towards expenses for this project which was scheduled for distribution this week
JILL BOYCE - BANDANAS
http://www.psalm91bandana.com/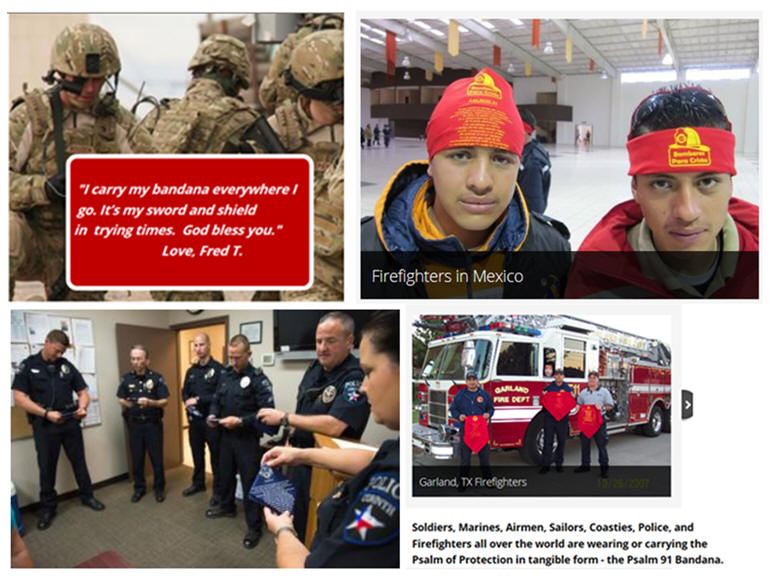 DURING TURBULENT TIMES
For generations the USA has been known as the bread basket of the world, feeding the hungry and helping 3rdworld countries. Christians have been pouring their own money into missions, drilling wells, housing, food and clothing overseas.
Now with weather being erratic and breaking historical records all over the world, signs are cropping up that the earth is groaning in travail due to sin and much bondage. The evil demise of wicked people are also manipulating our weather and crops. Our times are in the hands of the Lord as we rise above it all and become His lights in the world!
I have a friend who dedicates her yearly vacations each year to go to places of hurricane damage where she helps put new roofs onto houses for free. It is a part of a roofing ministry she belongs to. She loves doing it, and this is how she gives to the Lord. In church she has always been the overhead projector person and runs errands for the staff! She truly has the gift of invaluable helps.
During hurricane Katrina, David Hogan and his missionary team from Mexico took all their money out of savings and with that $25K they bought everything they could think of to help rescue people and rebuild. It was a tiny drop to the need but it began an amazing supply line of ministry. People heard they had spent everything they had, so they began pouring money into their office to help. Suddenly they had 4 distribution places (1 was 17 acres long) and large delivery trucks from stores coming in 24/7 and moving supplies like mops and tools for masses. FEMA recognized what they were doing and were amazed at their order and function and provision; they kept asking who are you and who is backing you???? They were so impressed they started pouring government money into the operation.
People stood in line at the distribution spots and merely asked what they desired and the runners went to their organized piles and retrieved them! (When I heard him share that part of the story, I smiled thinking how AWESOME to have all the goods organized in sections and I would probably have been the person directing the deliveries trucks where to unload into what place! I hope those who have had their postings moved into a different forum are smiling.)
When the runners retrieved and handed the stuff over to the people, they gave it in the NAME OF JESUS CHRIST, telling them God loved them. Now that is the body of Christ each finding their place in the kingdom of God! For years I have heard through the prophets how the Lord is going to use the church to give to a hurting world in their greatest times of need. This was a perfect example of God's involvement and amazing provision started from a handful of people. They gave all they had and God multiplied it for the masses. The Lord returned their seed to them when people sent money to their office.
Galatians 6:10 As we have therefore opportunity, let us do good unto all men, especially unto them who are of the household of faith.