REACHING OUT TO A PERSON THROUGH kindness
Kindness is a door into the heart of mankind.
People love human kindness stories. God placed His own heart of lovingkindness inside of mankind and people feel close to Him when they are kind or hear human kindness stories. Lovingkindness reels people in like a fish where suddenly our hearts are open and we have the ability to RECEIVE.
Scripture tells us that God is lovingkindness.
Psalm 36:7 How excellent is your lovingkindness, O God! therefore the children of men put their trust under the shadow of your wings.

Psalm 40:11 Withhold not you your tender mercies from me, O LORD: let your lovingkindness and your truth continually preserve me.

Psalm 63:3 Because your lovingkindness is better than life, my lips shall praise you.

Hosea 2:19 And I will betroth you unto me forever; yea, I will betroth you unto me in righteousness, and in justice, and in lovingkindness, and in mercies.
Ps 17:7; Ps 26:3; Ps 36:7,10; Ps 40:10-11; Ps 42:8; Ps 48:9; Ps 51:1; Ps 63:3; Ps 69:16; Ps 88:11; Ps 89:33; Ps 92:2; Ps 103:4; Ps 107:43; Ps 119:88,149,159; Ps 138:2; Ps 143:8; Jer 9:24; Jer 16:5; Jer 31:3; Jer 32:18; Ho 2:19
Lovingkindness captures hearts with tenderness, mercy, forgiveness, compassion, and other things depending upon the person's need.
While I was preparing for this class, my sister in law asked me about it. We were sitting at a picnic table eating lunch. I told her that I was working on the lesson about "Reaching People Through Kindness." Immediately I heard someone gasp at the table next to us. She exclaimed quite loudly: "Reaching people through kindness!!" I turned my head and smiled graciously. I said, "Yes! Did you need some kindness today?" Her eyes filled with tears and she said, "Thank you I have received my kindness." Her eyes filled with tears as she looked away. I knew it was not appropriate to pry and whatever was going on was very private to her. Then her son came over with their lunch.
I marveled at this. I knew, knew, knew that God had touched her in a very real, genuine way straight into her heart. It was through my one sentence and I had NO idea what it was about! However I received this as a confirmation that I was on His right track for these lessons as I had asked Him to give me confirmations.
EXAMPLES OF HUMAN KINDNESS STORIES
I saw this on facebook and it really touched my heart. I had been earnestly praying over the safety of the Republican convention and the police. I know each policeman had to come to their own sense of courage to face getting through that week and beyond.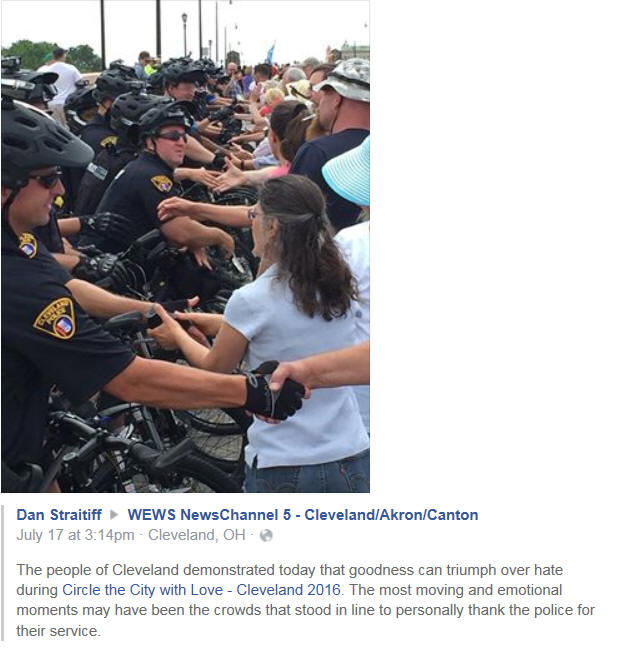 =====
This one really touched my heart! God bless these people and God bless our police! Lord we ask that lawlessness and violence be pushed back. We thank You for sending Your children as peacemakers into the earth in Jesus Name.
Matthew 5:9 Blessed are the peacemakers: for they shall be called the children of God.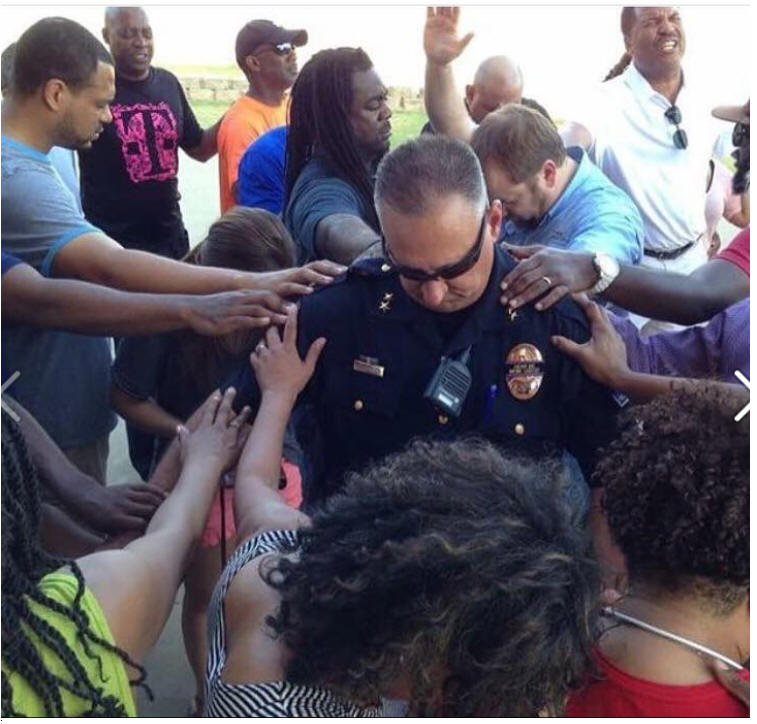 =====
Here is another one I found on Facebook: In February prior to graduation, a senior art student started drawing 411 charcoal portraits every single day. The portraits were his surprise gifts to all graduating seniors. Finally when he completed the project he woke early one day and hung all the pictures himself to surprise the class. When asked how the students responded, he said, "With a whole lot of tears!"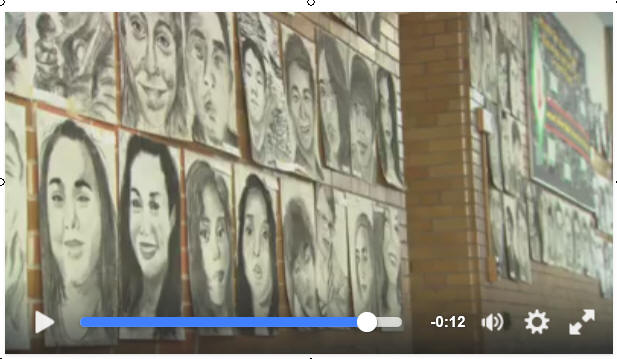 =====
Sometimes kindness is giving honor to people. I was really touched when I read the story about the marine who stands at attention for 3 hours during the Rolling Thunder parades in Washington DC. This year he had a broken wrist and was in a lot of pain. His grandma was along the sidelines and refused to sit down until he was done.

I was later touched even more when I found out that the Rolling Thunder bikers were made up of military veterans who love biking and love vets. The day before Memorial day, they ride through Washington DC and give honor to those missing in action and prisoners of war. This group of vet bikers go about doing good works for military families in need.
They arrived at the Republican party convention and said they were prepared if needed to stand shoulder to shoulder and be a wall of human flesh between the police and the demonstrators if needed! That brought tears to my eyes to see such bravery willing to stand in the gap with their own lives as risk in order to protect the police.