RHEMA 11/15/13 passion for the lord
HEARD: Flipped. He's looking up.
[I have rhema about a season where the Lord will be turning those who have been sifted and face down. Right now He is flipping people over like pancakes right now, so they can understand what has been going on from God's point of view.]
HEARD: I have a Word for you. Swallow yes. He's listening. How much? As much as you've got. Tell me more. Truth and letting it shine. Razor sharp, inspect this. He's My son.
HEARD: That's remarkable. What is? He's still taking us straight to the top. Comfort, straight to the top.
One large theme the Lord continued to speak to me about all year was based around the word, appetite. He has been increasing our appetite for more of Him and more of His Words. This has been a divine work to prepare us and enlarge our capacity to receive more of what He is wanting to give. Our appetite for the Word of God directly corresponds to our appetite for getting closer to Him.
RHEMA 6/14/00 CLIMBING STRAIGHT UP
VISION: I saw the Mt of the Lord and it was night and all these cars were moving very slowly up, up, up. It was really a lovely sight because all their headlights were facing up, like spotlights up the mountain. What was quite revealing about it is that the bottom 1/3 of the Mt was covered in headlights. The middle section had less lights. And the very top of the Mt had very few lights and the top was almost dark. The Lord told me it was the 30, 60 and 100 fold people and their level of desire for Him.
Mark 4:8-9 And others fell on good ground, and did yield fruit that sprang up and increased; and brought forth, some thirty, and some sixty, and some a hundred. 9 And he said unto them, He that has ears to hear, let him hear.
VISION: I saw a rock climber trying to climb straight up a cliff.
HEARD: Lord help us!
WORD TO PONDER: THE HILL OF THE LORD 6/14/00
This is the generation whose lights will burn brightly. Together, as they climb My holy hill, their fervency will shine brighter and brighter. See My holy hill illuminate in the darkness! United, these flaming hearts make the hill of the Lord become a beacon to all the world.
Come unto Me all who have hungry hearts. Seek Me with all your heart. Climb My holy hill and indeed, you shall see My face. Love Me with all your mind, your will, your heart, your strength. With everything in you, climb to Me. Higher and higher, persistently and tenaciously one foot in front of the other, climb My hill.
You will learn the great secret as you climb. The higher you come into My Presence, the weaker your own independence and personal strength will be. You will find there is no life outside of total clinging to Me. Dear ones, the tenacity of your clinging and your perseverance will be rewarded. If you seek Me, you will indeed find Me. Your king of glory shall in deed come in.
"Who shall ascend into the hill of the LORD? or who shall stand in his holy place? He that hath clean hands, and a pure heart; who hath not lifted up his soul unto vanity, nor sworn deceitfully. He shall receive the blessing from the LORD, and righteousness from the God of his salvation. This is the generation of them that seek him, that seek thy face, O Jacob. Selah. Lift up your heads, O ye gates; and be ye lift up, ye everlasting doors; and the King of glory shall come in." (Psalm 24: 3-7)
PARABLE: Today I shopped for some floor spot lights and colored light bulbs to shine up the corner wall behind the Christmas tree. I noticed the green one and wondered what it would look like.
A few isles later I heard the Lord say, Green light GO.
QUICKENED EYE GLANCE: After I heard Him say that, my eye landed on a giant gift bag, the huge plastic bag people buy to put their Christmas trees in after Christmas, so the needles don't drop all over the floor. Only this one was for giant gifts. I was amazed, the bag had Sonshine, our giant bear on the front of the package. He was absolutely darling! His head had popped out of the bag and the rest of him was still "wrapped."
[The Gk word revelation means to reveal, take off the cover or lid. Bears represent the fear of the Lord to me, as in Rom 11:22]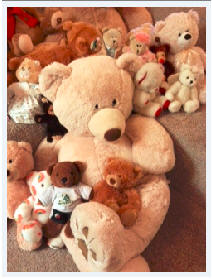 Here's a snapshot of Sonshine…he's one very large bear. The Lord's spotlighting a pretty big gift(!!) and He is saying there is a green light to go straight to the top of His Mt. There are a new crop of sons who are being given the passion to climb straight up the hill of the Lord and receive all He has to give! These are a new crop of leaders who will be nurturing fathers.
Numbers 11:12 Have I conceived all this people? have I begotten them, that thou shouldest say unto me, Carry them in thy bosom, as a nursing father beareth the sucking child, unto the land which thou swarest unto their fathers?
NURSING FATHER
Strong's Hebrew Dictionary
539. אָמַן 'aman
Search for H539 in KJVSL
אָמַן 'aman aw-man'
a primitive root; properly, to build up or support; to foster as a parent or nurse; figuratively to render (or be) firm or faithful, to trust or believe, to be permanent or quiet; morally to be true or certain; once (Isa. 30:21; interchangeable with 541) to go to the right hand:—hence, assurance, believe, bring up, establish, + fail, be faithful (of long continuance, stedfast, sure, surely, trusty, verified), nurse, (-ing father), (put), trust, turn to the right.
Psalms 43:1-5 Judge me, O God, and plead my cause against an ungodly nation: O deliver me from the deceitful and unjust man. 2 For you are the God of my strength: why do you cast me off? why go I mourning because of the oppression of the enemy? 3 O send out your light and your truth: let them lead me; let them bring me unto your holy hill, and to your tabernacles. 4 Then will I go unto the altar of God, unto God my exceeding joy: yea, upon the harp will I praise you, O God my God. 5 Why are you cast down, O my soul? and why are you disturbed within me? hope in God: for I shall yet praise him, who is the health of my countenance, and my God.
GO FOR IT! HALLELUJAH!!!