11/18/16 OVERCOMING DISTRACTION
HEARD: In a nutshell. Transition. Billy. That seems to be the way my mind is going, seeking bread.
I immediately remembered an old Family Circus. This isn't the one, but the it was similar idea. Billy's Mom had asked him to go get some bread at the store!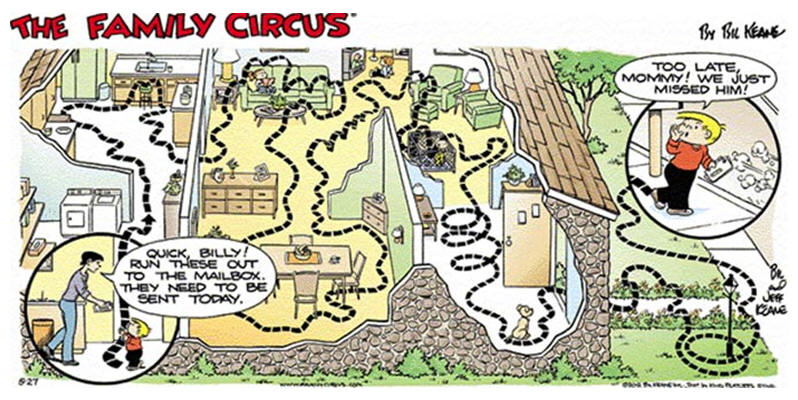 DISTRACTION
You have a divided heart. Many responsibilities pull and tug and demand your attention. Only one will do. And that is to follow Me.
You have yet to understand what it means to cast your care upon Me. My burden is light and easy when you are yoked with Me. For two oxen at a plow divide the load and neither feel the true weight of the burden. But ensnared by the tangled cares, you have forgotten your resting place; that place where you bring all that divides your time and energy back to Me — allowing Me My place by your side, helping divide your load and partnering with you to get the job done.
Bring your responsibilities back to Me and let us rearrange your priorities. Together we will divide the load and not your heart. Together, in one mind, one purpose, we will get the job done and you will find joy and energy in the process.
"And Jesus answered and said unto her, Martha, Martha, thou art careful and troubled about many things but one thing is needful: and Mary hath chosen that good part, which shall not be taken away from her." (Lu10:41-42)
UPROOTING THE STRONGHOLD OF DISTRACTION OVER LOVED ONES 6/26/07
I AM calling for the deliverance of My people, away from Pharoah's slavery. You must release the burdens and cares of this world and be willing to move away from a lifestyle that inundates and entangles you in the midst of the weeds and snares of care, worry, fear. Beloved ones, you are My called out ones, those whom I AM separating unto Myself. The separation is of your mind, thoughts, emotions so that you no longer dwell with a divided mind. To be distracted is to have a divided mind that steals your peace. You can work, play and rest and still be My called out ones. It is a heart issue that has ensnared your resting and abiding place in Me.
The only way out of the burdens of the taskmaster is to keep your eyes and focus on Me. Focusing on your loved ones and trying to keep them in line only causes bondage. Alignment only comes through My Spirit. Release them through prayer to be aligned in My purposes for their lives. Soon you will find your lives puzzling together and working in synch with your own.
Ex 9:13 NKJV
Then the LORD said to Moses, "Rise early in the morning and stand before Pharaoh, and say to him, 'Thus says the LORD God of the Hebrews "Let My people go, that they may serve Me.