HEARD AND SAW
Training yes. These are for a purpose. Training to mount up, is that what you want? On eagle's wings. Triumphant overcomer.
Come in from the cold. I saw a door open and it was very cold outside. I am here. My beloved. Faith to enter in. Do you value this? An assurance, it's Me. Already seated here with Me. Our time together.
As pondered this rhema I wondered what He was speaking about regarding coming in from the cold. Right now we have been experiencing very cold weather in the 20's. I see this as a parable. So often we have the mindset of mounting up on eagles wings and going somewhere. When we travel in the Spirit, we get to see the sights but there can be a lot of spiritual climate resistance to get there. We forget that His kingdom is WITHIN us and how simple it is to enter in and close the door to be shut in with Him!
Volunteers. Look for them. These are My mouthpieces. Each taking their time with Me. An alliance. Working together. To set your feet straight in following Me. I ache for You. Wilderness. You have leaned on Me. Where you have been. Listening and following. A trail of breadcrumbs.
John 6:31 Our fathers did eat manna in the desert; as it is written, He gave them bread from heaven to eat.
As I am waiting upon Him in my chair, suddenly I perceived an eagle pops in right in front of my face as I suddenly saw it with the eyes of my heart. I AM fellowship. I then had the sense the eagle penetrates me into my heart and sits there on a nest of eggs!
<![if !vml]>
<![endif]>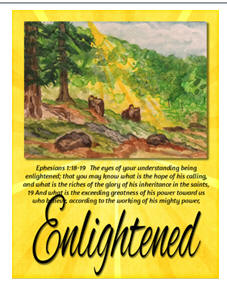 I am pondering "seeing" in this manner, which is more like experience via perception in my mind's eye than seeing a vision by observation. I am used to experiencing seeing visions instead of seeing things in my mind's eye. Then I had the impression of going to my Art Journal booklet pages that I made and counting to #17 in that directory. I didn't know which one it would be. Ah this one fits perfectly!!!
Ephesians 1:18 The eyes of your understanding being enlightened; that you may know what is the hope of his calling, and what is the riches of the glory of his inheritance in the saints,
(AMP) And [I pray] that the eyes of your heart [the very center and core of your being] may be enlightened [flooded with light by the Holy Spirit], so that you will know and cherish the hope [the divine guarantee, the confident expectation] to which He has called you, the riches of His glorious inheritance in the saints (God's people),
(NLT) I pray that your hearts will be flooded with light so that you can understand the confident hope He has given to those He called—His holy people who are His rich and glorious inheritance.
ENLIGHTENED
φωτίζω
phōtizō
fo-tid'-zo
From G5457; to shed rays, that is, to shine or (transitively) to brighten up (literally or figuratively): - enlighten, illuminate, (bring to, give) light, make to see.
Total KJV occurrences: 11
A vision is something that literally pops into your sight, eyes opened or closed. It is seeing an unexpected scene that happens TO us as though looking at a picture or a movie. It has clear lines and detail just like seeing a photo or media.
However enlightened eyes happens on our inside, and it happens THROUGH us. We experience this on a different level because our senses are involved. It is still an unexpected scene (and that is how you can tell it is the Lord and not you), but it is not seeing the details and parameters of a scene. It is NOT a day dream that one makes up in their imagination, but it is seen like a day dream on the inside of one's heart. This is hard to explain, but it is what PERCEPTION is all about. It is perceiving things on the screens of our heart where we visualize them as though recalling something into memory, like picturing what a tree looks like. The difference though is that when we recall, it is not something we choose to recall, it is still a gift from God given to us on the screen of the eyes of our heart.
WORD TO PONDER: BABY ITS COLD OUTSIDE, COME INSIDE! 1/08/17
In your journey I trained you in the wilderness to lean heavily upon Me and listen for My voice. I fed you with heavenly manna and a trail of breadcrumbs. How you delighted Me in following Me out and graduating your tests of faith. You have entered into a new place now!
Dear ones, you needn't brave the elements to go searching for Me. I am already here! Close the door and resist the noise and coldness of an oppressive world. Come into your secret place with Me and be warmed by My Presence! Enter in to My chambers of love and sit with Me. Let us spend time together. I ache for you even as you ache for Me.
I want you to participate with Me in heavenly places. Your spirit is already here, you don't need to trudge through the wilderness or even fly to get here. You will find Me deep inside our secret place. I AM here dear one, come.
Isaiah 32:18 And my people shall dwell in a peaceful habitation, and in secure dwellings, and in quiet resting places;
Proverbs 18:10 The name of the LORD is a strong tower: the righteous runs into it, and is safe.