MOVING YOU OUT OF ROAD BLOCKS 12/04/15
STUCK ON THE SAME NOTE
This week I was wrapping presents and I kept hearing the trumpet sound from my iTouch email, only it was the first note before it dips. I was hearing this tone in the spirit. Upon noticing it, I remembered that for perhaps a week, I have been hearing the same sound, as though it is "stuck" on the same pitch and not dipping.

I can hear it now as I am typing. To test it out, I sang the pitch I am hearing, then I played it on my itouch and it was perfect pitch, exactly in tune and the same note.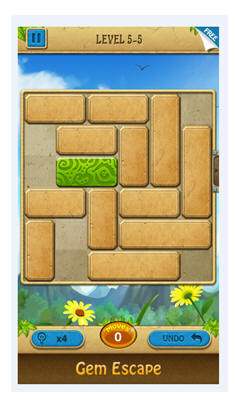 QUICKENED GAME: GEM ESCAPE – UN "BLOCK" THE GEM TO MOVE TO THE GOAL
Last week I took my grandson to Good Will. Every year around this time I get rid of old Good Will toys and get "new" Good Will toys for the kids to play with at our house. During the process, I found this cool Chinese puzzle that I picked up for myself for a dollar. The purpose is to get the white block through the hole at the other end. I have really enjoyed it and wondered if there was something less cumbersome in the APP store that was based on the same idea. It is called Gem Escape.
I arrived at this the level Level 5 -5 this morning. (Double grace)
Zechariah 4:7 Who are you, O great mountain? before Zerubbabel you shall become a plain: and he shall bring forth its headstone with shoutings, crying, Grace, grace unto it.
The blocks move backwards and forwards in the direction they are aiming. In this one I think it takes about 11- 12 moves to get the least moves for the gem to escape. What is quickened to me is that in this level ( 5-5) it requires the gem to move backwards even though its goal is to move forwards towards the slot. Sometimes it has to move backwards before others can move into place to make way for the gem to move forward.
CONFIRMATION RUBIK'S CUBE
This week one of our QWN members posted a Word about the Rubik's cube, of all things! Her punch line to her Word is persistence.
What I have learned through the Gem Escape APP game this week is that there is always more than one way to solve the puzzle, but there is also a best way. That is exactly like our lives in God. I think that it all has to do with how willing we are, on whether we conquer in the fewest moves! There HAS to be something about this all regarding overcoming through persistence!
Wayne shared the following excerpt was posted on Anna's Roundtree's website for Dec 2015 Word. She shared a vision from June 2006. Wow what a timely confirmation! The words jewel, treasure map and insight into what is blocking were quickened to me.
The Lord spoke: "A new thing, Anna, remember. Rejoice in each step of the way. Each step leads to a clue and a reward. THE ANGEL OF REWARDS is given today."
The ANGEL OF REWARDS appeared. He was at least 50 feet high and his robes were rich with jewels. I knew those jewels were the virtues of Christ. He smiled down at me.
The ANGEL OF REWARDS spoke: "At each station there is a clue and a reward. He, the Great King, is the reward." [The wind of the Spirit blew stronger as he spoke.]
I asked: "How does one obtain each reward?"
"The Holy Spirit applies the setting and works the work of The Holy One to replace that which is dead with He who is alive. Allow the Spirit to replace the old with the new. The One who was dead and is alive forevermore sends me to you to encourage you to follow the clues and receive Him in greater measure."
"You are very beautiful." I said – because he was.
"These are Him." He said and disappeared. I think I offended him.
---
The angel is relating spiritual growth to a treasure map. In the natural (on a map) at each location the seeker would be given a clue marked with an "X" that would take him/her to the next "X" on the map. But with a spiritual map the seeker is also rewarded when each new location is reached.
"So – what aid does this angel give?" A clue is given when one receives insight as to what is blocking the Christian's further growth in the Lord.
The true reward is always God Himself – even as He said to Abraham – "…Fear not Abram, I am thy shield and thy exceeding great reward."
Someone at the QWN posted the following Word picture today: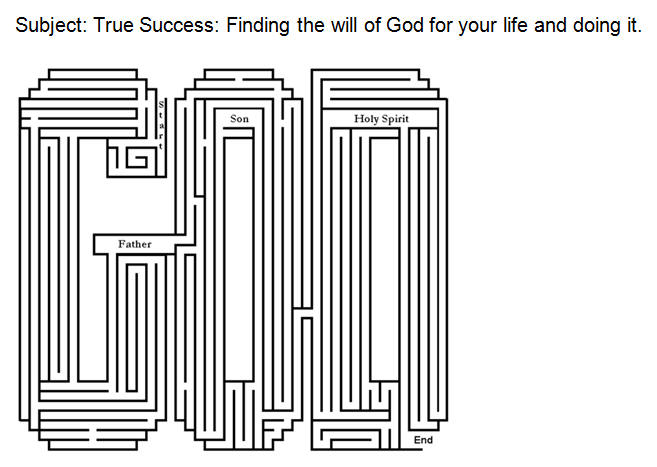 WORD TO PONDER: MOVING YOU OUT OF THE ROAD BLOCKS 12/04/15
Back and forth, up and down, in and out. Yes sometimes there are struggles when you are searching for My pathway in life. Always bathe decisions in prayer dear one.
I will help you find your way out of dead ends and places where you feel stuck in life! When you find your life stuck in one place with old patterns I promise to deliver you! I will provide a way of escape for you.
There are no dead ends precious one, I will always open new ways for you as you call upon My Name. No road block before you shall succeed. I will open detours with many added blessings for the trouble and time. It's win-win all around you. And obtaining that goal - it's always in My perfect timing!
Philippians 4:13 I can do all things through Christ who strengthens me.
2 Corinthians 4:7-9 But we have this treasure in earthen vessels, that the excellency of the power may be of God, and not of us. 8 We are troubled on every side, yet not distressed; we are perplexed, but not in despair; 9 Persecuted, but not forsaken; cast down, but not destroyed;