rhema 2/12/03 LOVE STORES LEAVING FOOTPRINTS IN THE SAND
HEARD: It's always going to be different. It's supposed to be. How you hear. How do we tell her these things? Communicate. She wants to understand. On her level. And so we weave a story. Wife, a good time. She likes it.
HEARD: Can we keep being bridge on rhema? Always. What is she doing? Comfort ye My people. Still relevant.
Today I fussed over how I hear the Lord and how the similar calling doesn't look how other people walk it out.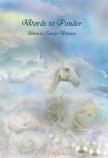 PARABLE: Today I printed out more rhema and also printed for myself a new Word to Ponder book with all the ponders up to date since a year ago. I laminated a cover and went to put it all together. When I put the cover on, it was too small. I immediately laughed knowing the Lord was saying that it is much bigger than I think! So I printed it out on ocean paper by the sandy beach, knowing the ponder book will go to the nations. And when I opened it up after making I said, "Speak to me Lord, through the sands of time." It was a prophetic moment where He filled my mouth. I had no intention of saying sands of time.
FUNNY CONFIRMATION: As I was going to find the inserts on our rhema about the sands of time, my eye fell on the a file called, Bio on Dr Sands. Funny!
CONFIRMATION: As I was typing the above sentence, I accidentally typed, Bio on Dr Sandy. Funny, funny!!
INSERT
QUICKENED CALENDAR: Today I worked several hours on the December rhema file. When I was done I was very weary as I had stayed up too late to get it done. I glanced at my Family Circus calendar and it was Jeffy putting on his boots. He said, "Grandma says, "If you want to leave footprints in the sands of time, you have to put on workboots!"
WORD TO PONDER THE LOVE LANGUAGE OF STORIES 2/12/03
Precious one, I have given you a gift to hear My voice through many ways and means. I have built a special love language known only to you and I. I have built it one letter at a time using of unique reference points. That is the way between two loves, they speak their own language in mere glances across the room. One word supplies a panorama of meaning between two who have spent time in loving togetherness and communication. Can you accept that between us, that this is our language? I have created love bonds between all My children, where they have allowed Me access. The language I speak to them is just as different and unique to them as yours is with Me. And so it should be.
You love stories, I created you to love stories. Doesn't it make sense that I would send you to share stories? Let go of the stereo type that your gifts need to look like others. I did not create you to walk in their shoes. If others speak on matters of nations and government, and you speak on matters of the heart, what is it to you? What matters is that you speak My story from your own life. I have places to send you that others can not fill. Each of you are precious to Me, and perfectly formed and trained to be My vessel fit for My use. Relax and just be who I have created you to be. Rest child, rest in Me.
"All praise to the God and Father of our Lord Jesus Christ. He is the source of every mercy and the God who comforts us. He comforts us in all our troubles so that we can comfort others. When others are troubled, we will be able to give them the same comfort God has given us." (2 Cor 1:3-5 NLT)