7/27/17 LIGHT AND EASY
HEARD AND SAW
I don't think it is necessary for you to work so hard. We will take care of you, I promise. We're working on it.
To win the battle. I saw the lid of my Altoid's box being lifted up. To lift the lid. My assignment. I will let you see. You need to understand.
PARABLE – MY WATER COLOR PALETTES
[I recently bought a box of Altoids and emptied the mints and use it as a light and easy way of holding a palette as coming directly from my main larger watercolor palette.]
Matthew 11:28-30 Come unto me, all you that labor and are heavy laden, and I will give you rest. 29 Take my yoke upon you, and learn of me; for I am meek and lowly in heart: and you shall find rest unto your souls. 30 For my yoke is easy, and my burden is light.
FYI: Here is my 10x7.5 tin watercolor palette which is pretty heavy to keep in one hand. So when I am painting a section, I take out certain colors and pop them into the altoid tin for something simple to hold.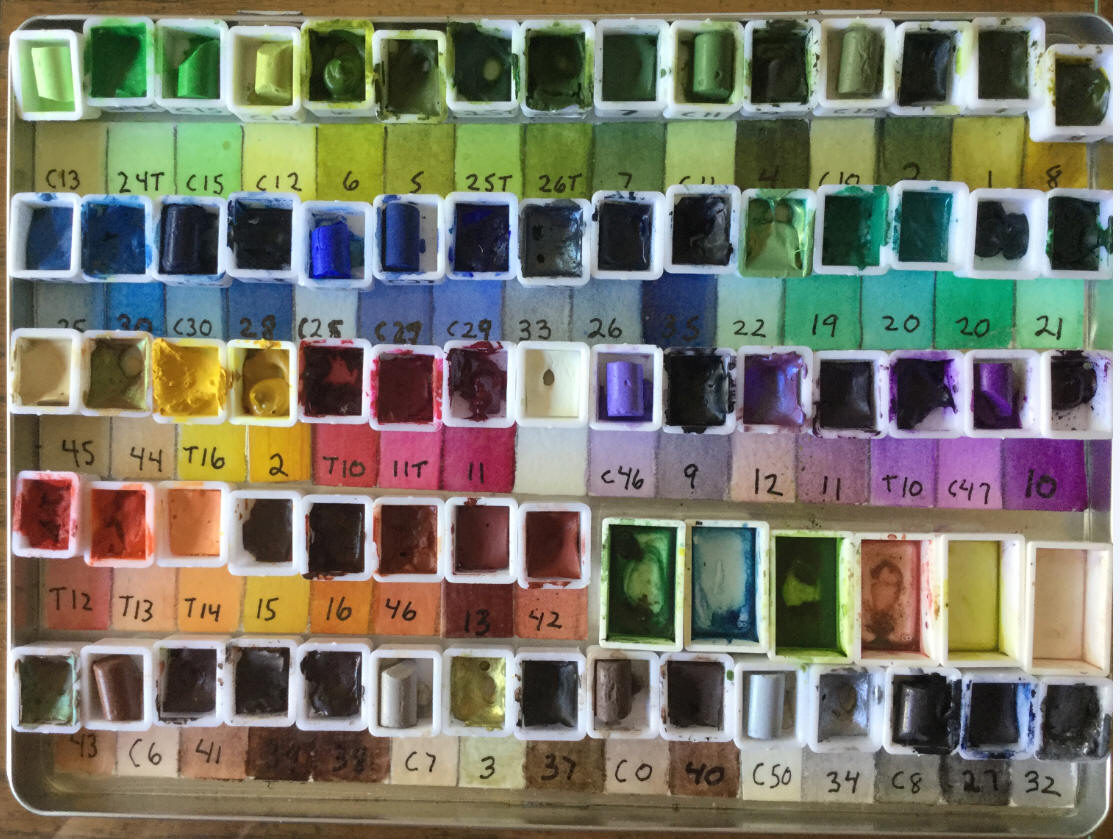 The bins are plastic and I placed magnets on the bottom so they are very easy to pop in and out. I use the half pans for color and the full pans for mixing.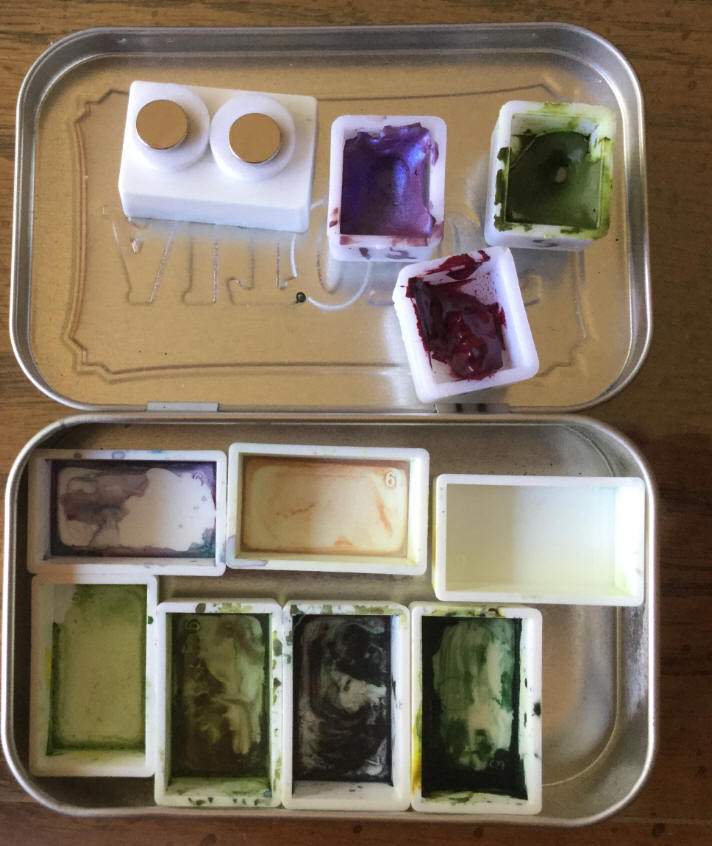 LIGHT AND EASY
My burden is light and easy when you are yoked with Me. For two oxen at a plow divide the load and neither feel the true weight of the burden. But ensnared by the tangled cares, you have forgotten your resting place; that place where you bring all that divides your time and energy back to Me — allowing Me My place by your side, helping divide your load and partnering with you to get the job done.
Bring your responsibilities back to Me and let us rearrange your priorities. Together we will divide the load and not your heart. Together, in one mind, one purpose, we will get the job done and you will find joy and energy in the process.
"And Jesus answered and said unto her, Martha, Martha, thou art careful and troubled about many things But one thing is needful and Mary hath chosen that good part, which shall not be taken away from her." (Lu 10:41-42)
COMING DELIVERANCE – WORKING OUT THE DETAILS NOW
An answer to prayer. A breakthrough is coming. I'm going to deliver you. The church loosened. What are you longing for? Freedom. So be it. The church has been captive long enough. I will set her free. Working out the details now.
A CUP OF COLD WATER – ARE YOU WILLING?
Breakthrough is coming. It's a lifestyle. Do you understand? A drink offering. I am willing. Do you understand? A cup of cold water. Those you may never meet on earth. They listen. They are hungry too. I put My homing beacon inside them. They visit and absorb. Without a lightbulb, they are able to see when they draw near. It makes a difference. You make a difference. It's a place to "take time" and smell the flowers. A lovely garden.
I saw an angel that was standing at attention. He had on a napoleon type outfit on with tights on the bottom and a long tail jacket on the top. He had in his hand a silver platter with a dome lid. He had his hand on the lid and starting to lift it. Give us our daily command. Your wish is My command. These are not ordinary angels. A joy just to serve you.
I saw someone looking underneath a French provincial type cupboard with closed doors. My Sons, they are about to manifest. You have waited long enough.
WORD TO PONDER – ARE YOU WILLING TO SHARE A CUP OF COLD WATER? 7/27/17
Beloveds I am asking if you are willing to share what I have given you. Whether it be a Word, something spoken, what you have seen, anything you have that has My life in it. Will you share it to those who are hungry and thirsty? I will place within them a homing beacon, that just like homing pigeons, they will be drawn to My Word within you. It is not you, but My life within you that shines and leads the way. I have given you angels on assignment to bring you your daily bread. I will make it light and easy for you to pop the lid of understanding and share with those in need. Are you willing dear ones?
Matthew 10:40-42 He that receives you receives me, and he that receives me receives him that sent me. 41 He that receives a prophet in the name of a prophet shall receive a prophet's reward; and he that receives a righteous man in the name of a righteous man shall receive a righteous man's reward. 42 And whosoever shall give to drink unto one of these little ones a cup of cold water only in the name of a disciple, verily I say unto you, he shall in no wise lose his reward.