1/04/16 KEPT THE GOOD WINE UNTIL NOW
VISION: I saw a wine bottle cut out that was a half page overlap on a scrapbook page. There was clear water in it and I asked the Lord what that meant. Immediately I remembered that the vessels were filled with clear water first before turning the water into wine. Then this scripture came to mind and I smiled at the Lord's encouragement that our best years have been kept for now! He is giving us new wine for He has saved the best til last. We are not without hope from growing old or outdated!
John 2:7-11 Jesus said unto them, Fill the water pots with water. And they filled them up to the brim. 8 And he said unto them, Draw out now, and bear unto the steward of the feast. And they bore it. 9 When the steward of the feast had tasted the water that was made wine, and knew not from where it was: (but the servants who drew the water knew;) the steward of the feast called the bridegroom, 10 And said unto him, Every man at the beginning does set forth good wine; and when men have well drunk, then that which is worse: but you have kept the good wine until now. 11 This beginning of miracles did Jesus in Cana of Galilee, and manifested forth his glory; and his disciples believed on him.
THE FULNESS 8/28/01
I will teach you the depth of My Presence, it is the full measure of My Spirit. You have it already dear one, deep, deep inside. You will learn the secrets of its depth as you learn to abide in Me. You shall dig deeper, like a well. You shall spill out like a reservoir with a volcano underneath. You shall experience My glory, the best wine. Walk purely, rightly and holy. Walk even as I AM holy. Receive the fullness of your adoption, My love. Complete that which you have begun. Dig deeper still.
Eph 4:13 NKJV
till we all come to the unity of the faith and of the knowledge of the Son of God, to a perfect man, to the measure of the stature of the fullness of Christ.
HEROICALLY OLD BUT NOT OUTDATED 6/11/06
Beloved, sometimes you feel like you have run your last race. I understand how tired you have become. You may feel like an old worn out mule, but I say NEVER. You are My powerful horse in battle, and you have run many races with a heart beating with My compassion. Yes, My zeal has enflamed you and you have burned for Me.
Know that even as you have run as a heroic champion in your day, you will also bear many children of the same stock. Champions are in your loins and you are not out to pasture, but merely transitioning into greater works of bringing in a harvest that is beyond your greatest expectations.
Do I not amply reward those who win? You have won well, My beauty. You passed by all the naggings that said it could not be done. You overcame all the obstacles in your way. You saw the goal of My promise and you ran every bit of it without faltering. Well done thou good and faithful servant!
Job 39:19-25 NKJV
"Have you given the horse strength? Have you clothed his neck with thunder? Can you frighten him like a locust? His majestic snorting strikes terror. He paws in the valley, and rejoices in his strength; He gallops into the clash of arms. He mocks at fear, and is not frightened; Nor does he turn back from the sword. The quiver rattles against him, te glittering spear and javelin. He devours the distance with fierceness and rage; Nor does he come to a halt because the trumpet has sounded. At the blast of the trumpet he says, 'Aha!' He smells the battle from afar, the thunder of captains and shouting.
INTERPRETATION OF THE HALF PAGE
Many years ago I had a trance vision where I was literally walking into a boardroom where everyone at the table had their glasses of water exactly half full. I lifted my own glass up to them and said, "Gentlemen, we shall rebuild!"
The Holy Spirit brought that vision into memory when I wondered what it meant that I saw the wine bottle on a halfpage in the scrapbook. The following is a visual example of the half page. They are like little flaps that open up to a larger spread of photos, making a portfolio type scrapbook page. In this example I cut out the crayons and that flaps is only the width of half of a page, so the crayon flap is overlapping what is hidden beneath. When God speaks, He opens up revelation (which in the Greek means to take off the cover) and then He spreads open His Word for a clear unhidden view: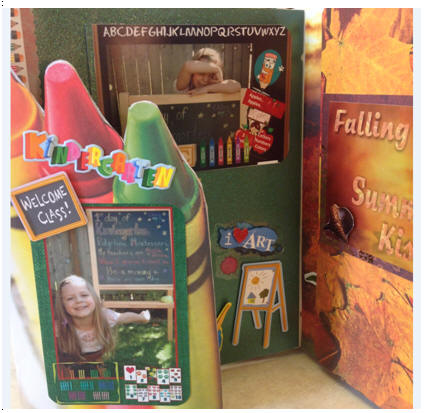 1/12/16 FAITHFUL, FULL AND READY TO POUR OUT THE BEST WINE
HEARD: A full glass of wine. Faithful.
[It was suddenly imparted to me that someone was introducing himself and his name of was faithful. Faithful, are you an angel?]
Yes I am assigned to you.
[Lord I truly want to be faithful to You and Your will all the way. I want to receive all the assignments you have for me. I want to be on time and not reluctant. Grant me Your passion and zeal for each one Lord. Please help me!]
You shall have your wish.
WORD TO PONDER: TO FILL YOUR GLASS 1/12/16
After many decades of waiting upon My Word and promises, My people have used only half of what I gave them to swallow. I AM even now pouring back into their cups so they will be completely full to the brim. What is this you ask? Dear hearts, this is the fullness of all that I AM, all that I walked in upon earth. I was given the full measure of Mt Father's Spirit and I too want you to walk in My full measure. I am going to completely furnish you, cram you full, and fully supply you into perfection. The is the full maturity of My image and My love!
Did I not save My finest wine for this time? Indeed throughout the ages I saw this time when I would have a people who would embrace the fullness of My gospel and walk in it. To a people without mixture, I will give My power without measure! Swallow what I have given you dear ones. Then lift your cups to Me and let Me fill you to the brim!
Ephesians 3:19-21 And to know the love of Christ, which passes knowledge, that you might be filled with all the fullness of God. 20 Now unto him that is able to do exceeding abundantly above all that we ask or think, according to the power that works in us, 21 Unto him be glory in the church by Christ Jesus throughout all ages, world without end. Amen.
Colossians 2:9-10 (AMP) 9 For in Him the whole fullness of Deity (the Godhead) continues to dwell in bodily form [giving complete expression of the divine nature]. 10 And you are in Him, made full and having come to fullness of life [in Christ you too are filled with the Godhead—Father, Son and Holy Spirit—and reach full spiritual stature]. And He is the Head of all rule and authority [of every angelic principality and power].