1/07/18 HIDDEN FROM THE HOUR OF THE COCK'S CROW
HEARD AND SAW:
Wait for it. I saw someone holding a baby. I saw the number 32011 and it looked like a date to me.
Revelation 12:1 And there appeared a great sign in heaven; a woman clothed with the sun, and the moon under her feet, and upon her head a crown of twelve stars:
Sign of the Super Moon that occurred on 3/20/11
DIVINE SIGN: RED MOON OVER WHITE HOUSE (Uncle Sam) AND GREAT BRITTAN (Lion)
Da 7:2-4 NKJV: Daniel spoke, saying, "I saw in my vision by night, and behold, the four winds of heaven were stirring up the Great Sea. And four great beasts came up from the sea, each different from the other. The first was like a lion, and had eagle's wings. I watched till its wings were plucked off; and it was lifted up from the earth and made to stand on two feet like a man, and a man's heart was given to it.
Everything you do, there is a purpose for it. Tumble weed. To see a grown man cry.
PROPHETIC BLOOPER: Tumble weed represents being sifted over and over again. When typing tumble weed, four different times I accidently typed tumble week. This represents the one week in Daniel, where there will be 7 years of sifting in defeating the antichrist.
Da 9:27 AMP
And he shall enter into a strong and firm covenant with the many for one week [seven years]. And in the midst of the week he shall cause the sacrifice and offering to cease [for the remaining three and one-half years]; and upon the wing or pinnacle of abominations [shall come] one who makes desolate, until the full determined end is poured out on the desolator.
The next super moon is coming this month.
1/11/18 INTERESTING CONFIRMATION – TUMBLE WEED
Today on facebook I saw this pop up, it is the annual migration of tumbleweed in Texas.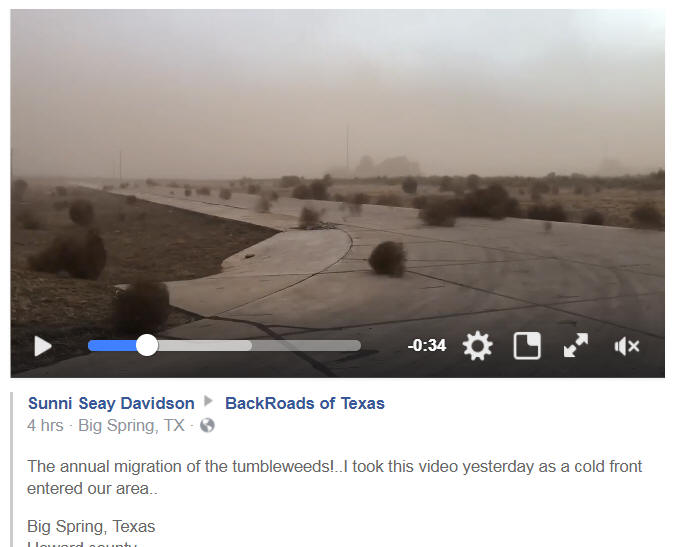 1/08/18 HIDDEN AWAY AT MIDNIGHT
Midnight. The cock crows, is there anyone to tempt? No they are all under His canopy. Hidden away.
Luke 22:31-34 And the Lord said, Simon, Simon, behold, Satan has desired to have you, that he may sift you as wheat: 32 But I have prayed for you, that your faith fail not: and when you have returned, strengthen your brethren. 33 And he said unto him, Lord, I am ready to go with you, both into prison, and to death. 34 And he said, I tell you, Peter, the cock shall not crow this day, before you shall three times deny that you know me.
Zephaniah 2:3 Seek you the LORD, all you meek of the earth, who have kept his commands; seek righteousness, seek meekness: it may be you shall be hidden in the day of the LORD'S anger.
1/11/18 ELLA'S AMAZING CONFIRMATION
Ella painted this rooster and posted the following word:

Watercolor, Acrylics)

January 11, 2018

This early morning as soon as I awakened I heard a rooster crow. There are no roosters around where I live, and I realized that I had heard it in the Spirit.

This painting that I had done back on December 10, 2016 came back to my remembrance.

I have quietly pondered this all day and one thing the Lord is keeping on my heart and in my spirit is to stay awakened to the manifestation of the Sons /Daughters of God. He continues to keep me on Sonship! Christ in us is our Hope Of Glory. And as Paul stated in Galatians 4:19, My little children of whom I travail in birth again until Christ be formed in you (ME).
Facts about a roosters crowing: The rooster is often portrayed as crowing at the break of dawn. However, while many roosters crow shortly after waking up, a rooster can and will crow at any time of the day. Some roosters are especially vociferous, crowing almost constantly, while others only crow a few times a day. These differences are dependent both upon the rooster's breed and individual personality. A rooster can often be seen sitting on fence posts or other objects, where he crows to proclaim his territory. (Wikipedia)
Mark 13:35 Watch ye therefore: for ye know not when the master of the house cometh, at even, or at midnight, or at the cockcrowing, or in the morning:
Romans 8:19 For the earnest expectation of the creature waiteth for the manifestation of the sons of God. 20 For the creature was made subject to vanity, not willingly, but by reason of him who hath subjected the same in hope, 21 Because the creature itself also shall be delivered from the bondage of corruption into the glorious liberty of the children of God. 22 For we know that the whole creation groaneth and travaileth in pain together until now. 23 And not only they, but ourselves also, which have the firstfruits of the Spirit, even we ourselves groan within ourselves, waiting for the adoption, to wit, the redemption of our body.
Galatians 4:19 My little children, of whom I travail in birth again until Christ be formed in you,
2 Corinthians 3:18 But we all, with open face beholding as in a glass the glory of the Lord, are changed into the same image from glory to glory, even as by the Spirit of the LORD.
WORD TO PONDER: HIDDEN AWAY WHEN THE COCK CROWS 1/08/18
Dear ones, there is an hour coming upon the whole earth where the antichrist will be given power to war and prevail against the saints. He will be given 1,260 days or three and half years to consume and destroy. Then I will come with ten thousands of My saints to execute judgment and possess My kingdom.
Remember Peter who at one time was given the greatest revelation of My being the Messiah, God's Son then satan requested to sift him in that very area. In order to purify Peter, I allowed this and he tumbled over like tumble weed as he denied that he even knew Me. That same test will come upon the whole world when the antichrist sifts. Saints will either stand and proclaim I AM God's Son Who died for their sins and they will die for their confession or they will take the mark of the beast, live for a short time, then ultimately be cast into the lake of fire for eternal torment.
Dear ones, pray that you will be counted worthy to escape this hour of temptation! Obey the scripture and walk in righteousness, earnestly leaning on Me. I have promised My remnant, those who are worthy that they will be kept from this hour of temptation. They will be safely hidden under My canopy, tucked under My wings. They will not be given over to this world wide sifting. Stay close to Me precious ones, do not lean upon your own strength. I alone am able to keep you from the hour of temptation and deliver you from even yourselves.
Revelation 3:10 Because you have kept the word of my patience, I also will keep you from the hour of temptation, which shall come upon all the world, to try them that dwell upon the earth.
Daniel 7:22 Until the Ancient of days came, and judgment was given to the saints of the most High; and the time came that the saints possessed the kingdom.