9/03/16 GLORY TRAIN CHUGGING UPHILL
A few days ago I saw and have been praying into its significance.
8/28/16 TRAIN PULLING INTO STATION – ALL ABOARD
I saw a train pulling to a station. The train was empty and needed to be loaded.
CONFIRMATION: Today I turned to the following at random at the Word to Ponder website, and it was immediately quickened as an answer to my prayer and a confirmation.
WORD TO PONDER WEBSITE: THE LITTLE ENGINE THAT COULD
I have called you to lay low and chug through a narrow passageway. The smaller you make yourself, the easier it will be to maneuver, beloved one. I know this has been very difficult time for you as you have kept your engine loaded and each press has seemingly been straight uphill through a mountain that would not budge. You have bravely held onto My Word. And like Jacob, you have grappled for My promises of blessing and you would not be defeated.
Even so, in this wrestling between your soul and My will, you have learned how to be in one accord with Me and also let go of that which I have asked. As much as you have reckoned yourself dead to sin, I have made you alive in Christ Jesus. As much as you have refused to yield to unrighteous choices, you have become My instrument of righteousness.
I have called you to be accountable for those you keep watch over. Take your place in government, schools, businesses, cities, churches, neighborhoods, prayer gatherings, families, children. Feed My sheep. Speak My Word. Pray with authority. There is room for you.
John 3:30 NKJV
He must increase, but I must decrease.
Rom 8:9-11 NKJV
And if Christ is in you, the body is dead because of sin , but the Spirit is life because of righteousness. 11 But if the Spirit of Him who raised Jesus from the dead dwells in you, He who raised Christ from the dead will also give life to your mortal bodies through His Spirit who dwells in you
As I pondered the above Word to Ponder, I turned to this one, again at random and saw the connection of the Lord drawing us straight uphill into maturity.
HOW TO GROW UPWARD INTO MATURITY
I AM calling My own to come up higher and grow, grow, grow. Remove the veils beloveds. Anything and everything that stands between us, set them aside and lay them down. Remove the stumbling blocks to your faith, refuse to fellowship with them. Whatsoever is not of faith is sin. Jealousy. Striving. Lying. Greed. Malice. Arguing. Filthy language. Sexual agenda and innuendo. Backbiting, lust, slander, control, divisions, drunkenness. Would I say that? Would I watch that? Would I listen to that? Would I do that? Would I treat another like that?
Do you want to enter My kingdom and grow in intimacy with Me? Do you want My Spirit to pour out upon you where you see and hear and experience My greater works? You can do this dear ones. Lay down your flesh. I will help you. I want you with Me, but not everyone who calls Me Lord will enter into My kingdom. Only those who do My will. Are you willing?
2 Corinthians 3:16-18 Nevertheless when one shall turn to the Lord, the veil shall be taken away. 17 Now the Lord is that Spirit: and where the Spirit of the Lord is, there is liberty. 18 But we all, with unveiled face beholding as in a mirror the glory of the Lord, are changed into the same image from glory to glory, even as by the Spirit of the Lord.
9/03/16 CONFIRMATION – THE LITTLE ENGINE THAT COULD
I was emailing a friend and she wrote me back and knowing nothing about the above Words to Ponders and the train, she said, "We're like the little engine that could going up over the mountain. I think I can...I think I can...I think I can... I KNOW I can...I can...me and Jesus made it over the mountain top!!!"
9/06/16: As I pondered past rhema about His glory train and also His "training" us, I was inspired to paint the following glory train. I had seen it before in heavenly places and in this painting it is now touching down on earth! He is coming with His 7 Spirit of God anointings and will teach us about these anointings and their fullness as we grow up into full maturity of Jesus' image.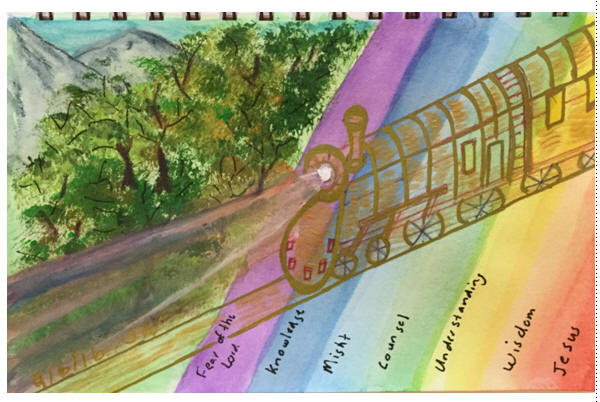 Isaiah 11:2-3 And the spirit of the LORD shall rest upon him, the spirit of wisdom and understanding, the spirit of counsel and might, the spirit of knowledge and of the fear of the LORD; 3 And shall make him of quick understanding in the fear of the LORD: and he shall not judge after the sight of his eyes, neither reprove after the hearing of his ears.
9/17/16 CONFIRMATION QWN – OPENED EARS SOUND OF A TRAIN
I heard in the spirit, as if it was real, a train going by on my street. This train was so loud it woke me up! My spirit came to attention, when it came rumbling through. I had a vision of my spirit man sitting up, at that exact second! Kind of like when I heard the shofar, being blown in the spirit! My spirit KNEW!
The farther it went, the more it settled into a pattern of noise, that only a train can make, as it rumbles across the tracks.
As I got out of bed and sat down on the couch and my spiritual ears could still hear the distant sound of a train rumbling. Then I was quickened more strongly, when the whistle blew long bursts. The time between the whistle blowing, decreased. Then the whistle just blew one right after the other...till it stopped. I didn't hear it anymore. I heard this train for about an hour.
9/17/16 CONFIRMATION QWN – TRAIN SOUND
I belong to a writers group on Facebook. A man from Sweden posted this picture today and talked about his father, who used to work on trains. When I saw the picture there was an immediate sound in my spirit of the chug a chug of a steam engine and the mourning cry of a whistle. It went on and on.
SANDY 7/22/99: At a conference I was attending, Mahesh had a vision where he saw an Indian smiling, putting his ear to the railroad track. The Lord said that the Glory train was coming. As Mahesh shared this, he said to get ready to feel the rumble of the train. As he said this, I was struck by His Spirit and I could literally feel the rumble under my feet, and then it entered my feet, traveled up to my stomach and immediately erupted into radical shaking. It was a powerful experience, I was holding on to my chair with both hands to keep from falling off onto the floor!
WORD TO PONDER: MY TRAINING COMING FOR YOU 9/03/16
Dear ones, throughout the years I have been training you in character issues, so that you will bear the good fruit of My spirit and not the corruption from your flesh. I have called My prophets to declare and decree where you have been, where you are and where you are going. I have been feeding you My promises of My glory filling the whole earth! Nothing is lost dear ones, all is safety kept in Me and My Word as you have been growing up into My image.
Listen! My whistle is blowing and My train is coming to pick you up once again and bring you to a new place. Yes into My promises. Let Me teach you about My fullness. I AM calling all who would come, to climb higher, be willing to yield all for the sake of coming into My fullness – the full maturity of Who I was when I walked the earth. Become My hands, My feet, share My heart and do all that You hear and see Me doing. Walk into the fullness dear ones. Yes it is an uphill climb, but not without My great grace. Each step is one step of growth into full maturity. Press through, you can do this because it is Who I am inside of you.
Ephesians 4:13 Till we all come in the unity of the faith, and of the knowledge of the Son of God, unto a perfect man, unto the measure of the stature of the fullness of Christ:
Colossians 1:19 For it pleased the Father that in him should all fullness dwell;
Colossians 2:9 For in him dwelleth all the fulness of the Godhead bodily.