RHEMA 1/10/14 FOLLOW THE BUBBLES
This morning I was drawn to pick up my 2012 rhema book and I turned with anointed hands to this one:
ANGEL COLORS
Bob sees angels as balls or orbs of light with different colors. The colors of the balls tell you the different things they do.
Green = teacher
Blue = revelation
Red = salvation
Purple - holy of holies
Yellow and gold = miracles
Brown = servants ministry of helps
White - real life, white light
At that moment I asked, "OK Lord which one are You focusing on this morning?" I was shocked- at the exact ending of my question, my screen saver popped on! I had forgotten I had chosen "bubbles" when I recently changed my wallpaper after Christmas:
God is amazing! (He is pointing towards all the colors of the rainbow which are His 7 Spirits.
7 SPIRITS OF GOD COLORS
Revelation 4:2-5 And immediately I was in the spirit; and, behold, a throne was set in heaven, and one sat on the throne. 3 And he that sat was to look upon like a jasper and a carnelian stone: and there was a rainbow round about the throne, in appearance like unto an emerald. 4 And round about the throne were four and twenty thrones: and upon the thrones I saw four and twenty elders sitting, clothed in white clothing; and they had on their heads crowns of gold. 5 And out of the throne proceeded lightning and thunderings and voices: and there were seven lamps of fire burning before the throne, which are the seven Spirits of God.
Isa 11:1-2
There shall come forth a Rod from the stem of Jesse, and a Branch shall grow out of his roots…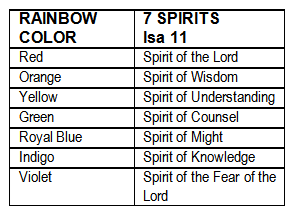 1. The Spirit of the Lord shall rest upon Him,
2. The Spirit of wisdom
3. and understanding,
4. The Spirit of counsel
5. and might,
6. The Spirit of knowledge
7. and of the fear of the Lord.
=======
QUOTE FROM A DIARY OF SIGNS AND WONDERS
Maria Woodworth-Etter
"…have been given to those thus slain by the power of God. Many have seen balls of fire and lights in and around the tent."
=======
RHEMA INSERTS ON BUBBLES
6/26/02 ANGEL JOY BUBBLES
TRANCE VISION: I was traveling and went passed a tree. When I looked back, I saw an angel kind of hiding and he suddenly turned brilliant with the glory. He had turned facing the other direction and looked like he was preparing to depart. His mantle went from his shoulders to his hips and it was glowing white. My eyes had been opened as in a trance and I tried and tried to keep my eyes open so I could see him. I begged that he not leave. Instead, he turned toward me, and I was still traveling forward away from him and he blew joy bubbles into the air. They were about 2-3 inch bubbles. Then he blew them to me and the wind carried them and I opened my mouth and they popped in my mouth and in my face. I was so delighted as they popped.
I felt the vision closing down, and I tried to keep my eyes open as long as I could. I saw my own company of angels accompanying me. There seemed to be somewhere between 7-10 both men and lady angels, each dressed differently, floating above my heard about 6 feet or so.
=======
7/9/02: BREATHING HIS CLOUD
EXPERIENCE: I breathed in and felt the vapor of His glory cloud in the room.
VISION: I saw joy bubbles popping all over in the room.
HEARD: Wings. Angel's wings. They take flight. Yes you too, let's go for a ride.
WORD TO PONDER MOMENTS IN MY CLOUD 7/9/02
There are times when you dance before Me, and you flow in the river of My Presence, that I stir each moment with life. Angels take flight even as your soul is enraptured with My nearness. Suddenly I am there as I visit you in My cloud. Breathe in and feel the vapor of My breath upon your face. Take a deeper dip in My river and feel the joy bubbles of the effervescence of My Spirit rise within your cells. Each shall come forth bursting with life while I surround you with tender caresses. Enjoy My Presence, My love, and let Me touch you with My tangible kisses of pure delight. For you are My delight and I Am near as you pour yourself out upon Me.
"Let him kiss me with the kisses of his mouth: for thy love is better than wine." Song 1:2 KJV
"Then a cloud covered the tent of the congregation, and the glory of the LORD filled the tabernacle." (Ex 40:34 KJV)
A hour later I was in the bathroom and washing my face and as I was combing my hair, suddenly I heard 2 popping bubble sounds. The sink had drained and ended with 2 pops. I am amazed, I have never heard that sound before coming out or our sink! The Lord is playing with me! JOY BUBBLES!
QUICKENED MEMORY: A few days ago a friend said she read a post on Elijah list that had bubbles in it, and then when she went to my QWN forum, her eye glanced at the forum banner!!!
QWN BANNER:
QUOTE FROM ELIJAH LIST:
Joey LeTourneau
"The earth is FULL of His goodness, waiting for us to expect it, recognize it, anticipate it, and take what's inside each of those previously hidden bubbles and reveal such to the world. When we change our expectation to anticipate His version of good instead of whatever it might be we are afraid of, we will take the waters of His perfect love and watch them transform the most desolate or dry people and places, including ourselves.
Because truly, the whole earth already IS full of His goodness! Do you see it yet? Receive a new standard of expectation, newly defined by His perfect love for you."
QUESTION: After such a bubble morning, I usually would know what the Lord would be saying, but I have a whole series about bubbles on line:
Angels and Joy Bubbles * Power Bubbles * Bubble Protection * Glory Bubbles * Effervescent Bubbles * People Bubbles * Popping Bubbles * and more!
[Lord what are You saying about the bubbles?]
HEARD: Follow the bubbles!
REVELATION: Ah HAH! Now I am laughing! You would think I would have "got" it the first moment I saw the bubbles pop on my screen, but sometimes the Lord hides Himself until after the process, like on the road to Emmaus. Duh! This week I formatted my new book, and created the book cover and then put it on line to purchase. It is bubbles following His wind!