5/01/16 FACING BLANK PAGES
PARABLE: Yesterday I saw 2 YouTube tutorials on overcoming creative blocks in facing a blank page. Today as I sat down to 2 new clean art journal pages and wondering what to create I heard:
HEARD: Blank pages, making wise the simple.
Psalm 19:7-10 The law of the LORD is perfect, converting the soul: the testimony of the LORD is sure, making wise the simple. 8 The statutes of the LORD are right, rejoicing the heart: the commandment of the LORD is pure, enlightening the eyes. 9 The fear of the LORD is clean, enduring forever: the judgments of the LORD are true and righteous altogether. 10 More to be desired are they than gold, yea, than much fine gold: sweeter also than honey and the honeycomb.
Last month I bought new art journals to learn how to draw, try handlettering and different mediums to color with. For me learning this new skill is exactly like being a child with blank pages in my life since drawing and painting are very limited in my knowledge and practice. I am using the www for a lot of tutorials on how to.
QUOTE FROM THE INTERNET ABOUT BLANK PAGES:
Having a new notebook is a fantastic feeling, its so exciting to think of the potential of the notebook, the things you could write. That is until you open it to the first blank page. Of course, it is no different to any other page in the book, but for some reason the first page can feel daunting. If this happens to you, here are some ideas on what to do with the first page:
· Write a list of wishes

· Leave it blank

· Write a list of things you are grateful for
I laughed when I read, "LEAVE IT BLANK" as that is exactly what I had done with my new notebook! I left the first page blank because I was so intimidated! I practiced doing totally different types of things and had a quarter of my book filled before I had courage to do the first page! Here it is: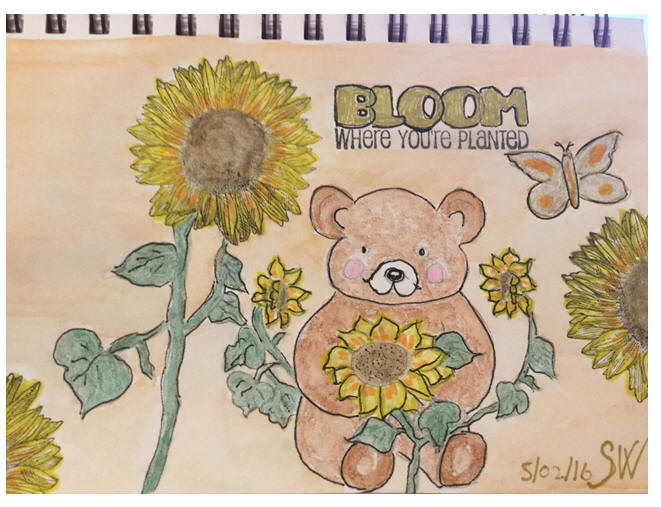 WORD TO PONDER: FACING BLANK PAGES
Dear one, there are times when a season closes and you are not sure what to do. The door to the past has closed and suddenly you are facing blank pages. For some, this is refreshing to have nothing to do except rest, hope and dream once again. For others it can be trauma because their schedule kept them going. They do not know how to rest and balance never was in their life style.
Continue to give your future to Me. Continue to give your plans to Me. Lean on Me and trust Me for grace each day to bring you exactly what you need. It's OK that you don't know about your future when it is in My care. Learn to cultivate your own life and those I give you to care over. Ask Me to give you new seeds of purpose to plant so that you can begin once again. I will help you till, plant, water and nourish your life's new pages. I will help you bloom where you are planted!
Song of Solomon 5:1 I have come into my garden, my sister, my spouse: I have gathered my myrrh with my spice; I have eaten my honeycomb with my honey; I have drunk my wine with my milk: eat, O friends; drink, yea, drink abundantly, O beloved.