HEARD AND SAW:
What have I called you to DO sweetheart? [Lord You have called me to be faithful and follow through.] I saw the movement of an angel stepping forward. I will help you. A way of keeping things in order. Your scribe angel. Sorting. A message. The pieces fit and blend. Yes like graduating colors. So pretty. I too love color. Each message has one [a color]. You will come to know this.
5/4/01 SCRIBE ANGEL WEAVING HIS WORDS TOGETHER
Once you get the hang of it, you'll understand. I saw an angel with an invisible needle. She was making threading movements as though weaving the needle in and out, stitching something.
Someone sent the following video and I was amazed at the parable. She knits a 1,000 strands together to create a multicoloured mattress. The mattress speaks of the Lord creating our resting place through the woven threads of His Words.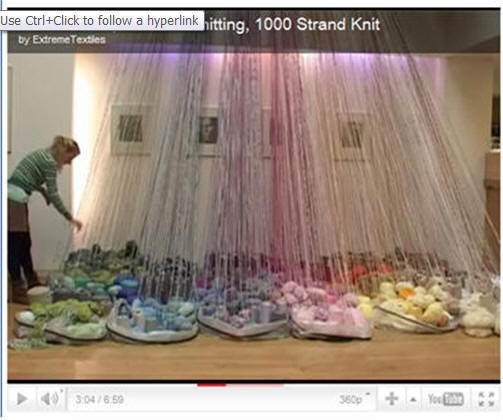 12/04/15 DELETE THE BLUE FACE!!
You delight Me child. What I am about to do. Are you interested? Topic. I saw Wayne and he was editing one of my Words. He pointed out the sentence, "She was blue faced." Wayne said it needed to be deleted!!
WORD TO PONDER: COLORING YOU HAPPY 1/14/16
Precious ones I have seen your tears and know your long sufferings in waiting for My promises and My Word to manifest in the earth. No more sad, blue faces! I AM assigning you new joys with creative time to put life and color back into you! I will quicken colors to you this year and speak to you through them. I will quicken designs and patterns and open your eyes to see My Word and My ways through them.
Just as I delight in you for just being My child, I want you to be like a child who simply delights in creative time. Enjoy bringing balance and order out of chaos! Design and decorate, put into place. Set your houses and lives in order dear ones! I will rain on you and give you great pleasure as I pour out My grace upon you to accomplish these tasks.
2Sa 5:11 And Hiram king of Tyre sent messengers to David, and cedar trees, and carpenters, and masons: and they built David a house.
2/12/17 FROM SAD BLUE TO RULING PURPLE
I saw a foot reaching out to touch a shoe box. The shoe box was earth colors like camouflage colors. The title of the box said Gouache, which is a type of watercolor paint.
What do you think? I think she is sad. I think so too. Oh look at that! I saw a lady running with a paint brush in her hand. She was running with passion towards the color purple. Sweet one you are very gifted. Enjoy your day creating!
[I have heard Neville Johnson say that in the spirit realm we emanate color.]
=======
LIST OF COLOR MEANINGS FROM JOHN PAUL JACKSON:
(The + side is God and the – side is the enemy)
https://www.streamsministries.com/
White: (+)Spirit of the Lord, holy power (-) religious spirit
Red: (+) wisdom, anointing, power (-) anger, war
Green: (+) conscience, growth, prosperity (-) envy, jealous, pride
Blue: (+) communion, revelation (-) depression, sorrow, anxiety
Yellow: (+) mind, hope, gift of God (-) fear, coward, intellectual pride
Cyan: (+) will, perseverance (-) strong willed
Magenta: (+) emotions, love (-) hate
Gold/Amber: (+) holy, purity, glory (-) idolatry, defilement, licentiousness
Orange: (+) perseverance (-) stubbornness, strong willed
Silver: (+) redemption (-) legalism, slavery, domination
Brown: (+) compassion, humility (-) humanism
Purple: (+) authority, royalty (-) false authority, licentiousness
We have a purpose for you. His will on earth. Candle. To bring light. Impact. What does light do? It makes manifest. The hidden things. I saw a lantern being held up. Perception. Yes exactly. Made manifest. To bring clarity. I saw the iris of an eye only it was the color wheel in the eye. Advancement.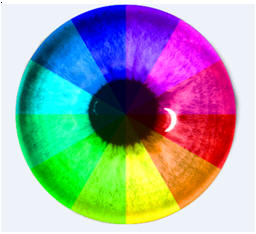 I felt led to go to the QW website and scroll down in the index to a certain place on the scroll bar. I had no idea where it would land. This one is what I clicked on and it is exactly one year to today's date:
3/04/11 TO SEE WITH NEW EYES
Coming forth. A triumphant bride. Seeking My face. Elohim. I glanced at the title PREPARATION FOR DIVINE VISITATIONS. In My likeness.
To see with new eyes, a life unfolding. Puts a different light on the colors. I will find a place for you. To shed new light and insight. A theme.
Peace. Just rest. There is a purpose for this, I will show you. Transition, it brings together things for good. Alignment. To see things as an overall whole. What you didnt see before.
I saw a card game move and stack into order from the #8 downwards to represent new beginnings. It got transferred to a new place. It's a show and tell.
TO SEE WITH NEW EYES 3/04/11
I AM turning My people over for a different view. Their perspectives have seen one side of what I have been speaking to them, but they have not seen the larger picture. I will bring new colors, new light and new insight to where they have walked and what they have learned. As I redeem what was lost, I will bring these things together for good so that what was said is understood with new revelation that has My greater understanding. This revelation will show Who I AM, what I AM doing in the earth and where I AM going.
Pr 1:2-7 NKJV
To know wisdom and instruction, To perceive the words of understanding, To receive the instruction of wisdom, Justice, judgment, and equity; To give prudence to the simple, To the young man knowledge and discretion — A wise man will hear and increase learning, And a man of understanding will attain wise counsel, To understand a proverb and an enigma, The words of the wise and their riddles. The fear of the Lord is the beginning of knowledge, But fools despise wisdom and instruction.
The Lord is opening my eyes to pay attention to color in my visions, paintings and messages. Color is definitely a way He speaks to us.