12/09/16: DRIVING THE PEAKS AND THE VALLEYS
I had the following rhema the day after I painted the above painting (with Inktense pencils and blocks).
HEARD: We need to pray that we donít get derailed. We are helping you each step.
I dreamed was driving on a very tall mountain and the narrow road was not safe and I had a hard time seeing the road clearly and was clinging to the Lord with the reality of the cliff being so close. I was going too fast due to pressure from someone else in the car, and I was not tall enough to see clearly over the steering wheel. This caused me to have to semi "see" and semi "guess" where the road was going! I did not want to be driving that mountain and clearly said so in the dream.
Next I found myself driving the car in the valley and I saw all these angels excavating the road and pathway. It was SO flat and stable! There was no pavement yet, it was all being prepared and I had the feeling that my driving on it was part of being a forerunner, helping prepare the way for others. I saw a crossroad coming up with a well paved road and knew I would be turning right onto that road.
Isaiah 57:14-15 And it shall be said, Heap it up, heap it up, prepare the way, take up the stumbling block out of the way of my people. 15 For thus says the high and lofty One that inhabits eternity, whose name is Holy; I dwell in the high and holy place, with him also that is of a contrite and humble spirit, to revive the spirit of the humble, and to revive the heart of the contrite ones.
HEARD AND SAW
Top shelf. Thatís a primary reason to go that high. Trance. I saw a little box with a check mark beside it. Smile. Fluent, even though she doesnít say it. Itís not whatís in the eyes, its whatís in the heart.
There are others who are taller than others. To seek you out and find you. I know you want more from me. I just canít reach it. Iím so sorry. High ranking canít reach it. The mountain top experience. On a mountain. On the top shelf. Mountain, you are safer in the valley. It fits otherís needs. Ö Separate your leader. No, stay connected.
I saw a pastor and he was helping a younger prophet who was in her 30s. She was dressed with a heavy warm coat on and he wanted to make sure she had a little cap on her head for a covering. He explained, I am helping her get ready to be with the childrenís recess.
PAINTING: HIDDEN VALLEY
Last month I had paint the following in my art journals and entitled it, Hidden Valley. It has more meaning to me now that I had the dream!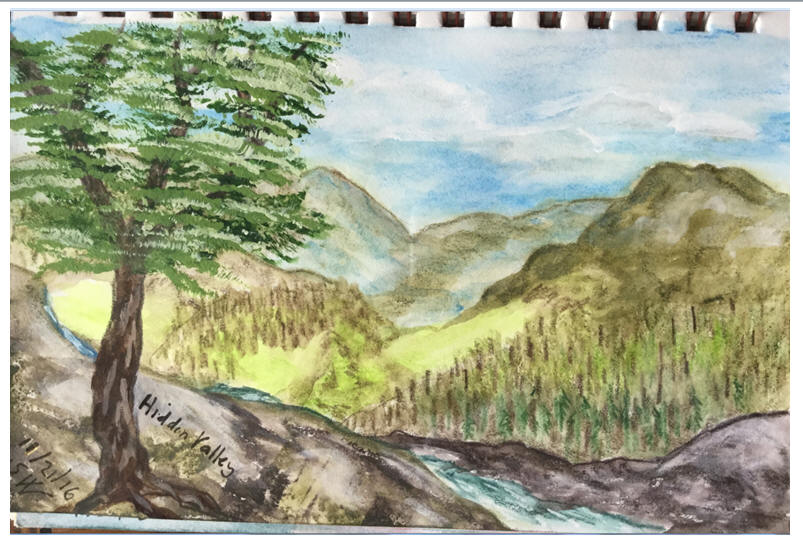 12/11/16 CONFIRMATION QWN MEMBER
I'm reading Isaiah 55: now! It's beautiful!
Isaiah 55:10-12 For as the rain comes down, and the snow from heaven, and returns not there, but waters the earth, and makes it bring forth and bud, that it may give seed to the sower, and bread to the eater: 11 So shall my word be that goes forth out of my mouth: it shall not return unto me void, but it shall accomplish that which I please, and it shall prosper in the thing for which I sent it. 12 For you shall go out with joy, and be led forth with peace: the mountains and the hills shall break forth before you into singing, and all the trees of the field shall clap their hands.
12/11/16 CONFIRMATION QWN MEMBER
I began pondering on the picture and your dream, I suddenly and unexpectedly heard myself say (don't know if it came from my spirit or my thoughts), but it was in my voice and I said.... "Thank God for Peace in the valley".
These pictures minister to me as well as your Words. I am in a place now, where I am learning and embracing the lesson of being content and grateful no matter the circumstance. Keeping my eyes on my Precious Lord. While watching and learning all that I am taught.
QUOTE RICK JOYNER THE FINAL QUEST:
About half of us decided to keep climbing, while the other half descended back to the lower levels to explain to those below what was happening. Everyone was then warned to keep climbing and not stop, except for a few who stationed themselves on each level to keep the other soldiers moving higher.
When we reached the level called ďThe Unity of the Brethren,Ē none of the enemyís arrows could reach us. Many in our camp decided that this was as far as they needed to climb. I understood this because with each new level the footing was more precarious. However, I also felt much stronger and more skillful with my weapons as I went higher, so I continued climbing.
WORD TO PONDER MOUNTAINS AND VALLEYS 12/09/16
Dear ones, even though you are given high places and experiences in Me, as in breakthrough moments of faith, I AM desiring your spiritual legs to grow to be able to abide in that life naturally without reaching. I AM calling you to the valley to learn how to live a FLUENT daily journey in My Spirit where you overcome all that is in your path and use what I have given in a FLUENT and freely flowing manner. It is more important to be fluent in hearing Me on a daily level than receiving a flashy and spectacular breakthrough in a higher place and not be able to abide there.
Philippians 4:11-13 Not that I speak in respect of want: for I have learned, in whatsoever state I am, to be content. 12 I know both how to be abased, and I know how to abound: everywhere and in all things I am instructed both to be full and to be hungry, both to abound and to suffer need. 13 I can do all things through Christ who strengthens me.