11/12/17 CREATING AS AN EXPRESSION FROM GOD
Last night I read the book of Habakkuk in my art Bible and it brought precious memories of the following Word about light rays coming from hands.
11/20/01 LIGHT RAYS FROM MY HANDS
I dreamed I was at a conference and I was sitting in the front row, next to Bob Jones and he was ministering to me. When he was done praying over me, I noticed that I could raise my right hand up and it would cast light outside where it was dark. As I moved it toward the ground there were beautiful stones and agates. Then I started to swirl my hand in the sky and they were beautiful lights like the aura borealis.
Then I was released into ministering over people. I was touching them with my right hand and then I started to swirl my hand like I sometimes do the glory ring in worship. People were getting touched all around me.
9/18/01 BOB JONES SAY LIGHT RAYS COMING FROM HANDS
Bob received a revelation this week seeing men and women anointed from Hab 3:4. They were anointed in armor of light with rays of light emerging from their hands not unlike "laser beams". When this occurred in the Spirit, creative miracles were manifested in an awesome way. I believe this is a prophetic promise for those willing to press in to receive it. Bob also saw significant new invention's emerging and great breakthroughs in science and technology bringing an exchange of wealth from the wicked to the righteous.
JOHN PAUL CONFIRMATION MOVING HANDS!
This morning I colored the pages and clicked on John Paul Jackson sermons at random. I was amazed that the sermon was all about his time in the throne room where he was amazed that everywhere coming from God there was movement of sound, colorful lights, vibrations, all in constant movement. John Paul spoke on our desire to create with song, art, poetry, dance, movement, expression and it is all worship to the Lord as we yield to various forms of expression.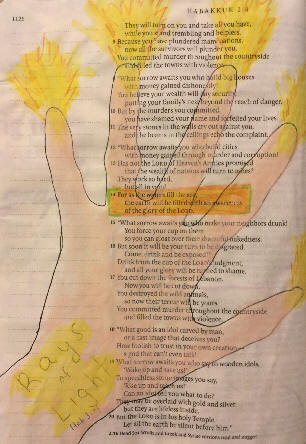 The term "Anointed hands" has been a buzz word for over 30 years to me. During the 90's I had so many itinerate prophets touch my hands twice when I was in prayer lines. I had 20+ years of keyboard in piano and 30+ years of writing. Now I am painting. This all connects with light rays coming from my hands forming beautiful moving colors in the sky and also what John Paul said about movement being worship.
HEARD: Hands a work in progress. A release is coming. Impact. Release My anointing, whoosh. Yes in the sky.
The Aurora is an incredible light show caused by collisions between electrically charged particles released from the sun that enter the earth's atmosphere and collide with gases such as oxygen and nitrogen. The lights are seen around the magnetic poles of the northern and southern hemispheres.
WOW CONFIRMATION AURORA BOREALIS
11/18/17: I shared the above at the QWN yesterday, imagine my JOY last night when I went to YouTube to see if Lindsay had anything new she had painted! She did this yesterday, the same day I shared about painting the sky!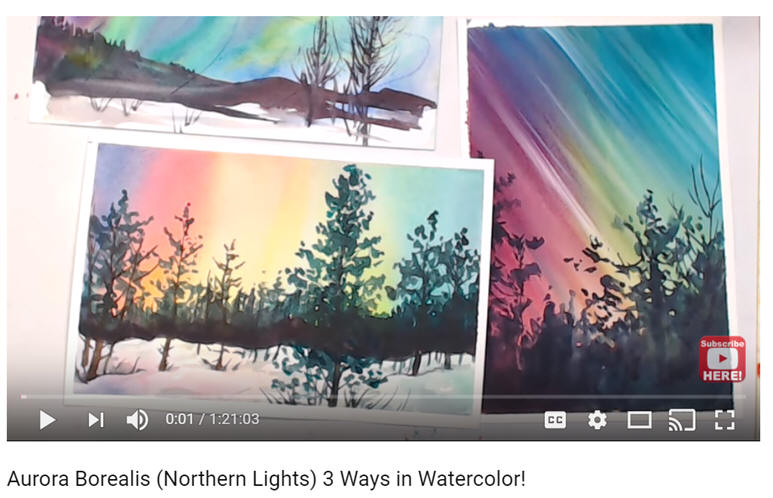 WORD TO PONDER: ANOINTING TO CREATE 11/13/17
Beloved I have anointed your hands as an expression of Me. They are a reflection of what I do, what I release, what I create and what I send as good gifts. I send forth My light, My living colors, My sounds, My creativity to fill the air with My goodness. Every light, sound and color carries My purpose. Enjoy partnering with Me as I release My heart through your hands!
Psalm 19:1 The heavens declare the glory of God; and the firmament shows his handiwork.
Ezekiel 1:4 And I looked, and, behold, a whirlwind came out of the north, a great cloud, and a fire engulfing itself, and a brightness was about it, and out of its midst as the color of amber, out of the midst of the fire.