RHEMA 4/03/12 CLOUD OF WITNESSES DECREE
OPENED EARS: I heard a huge crowd shouting.
[Lord who were those people?]
HEARD: The cloud of witnesses.
RHEMA 4/22/12 THE DECREE OF THE CLOUD OF WITNESSES
VISION: I looked over at the field across the street and there were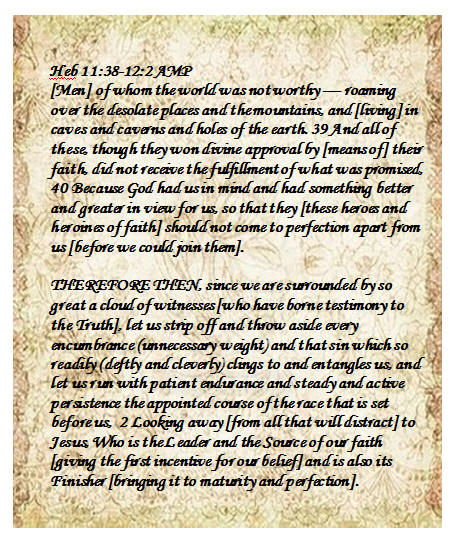 a bunch of black people there and they were proclaiming "This is a home! This is a home! An end time refuge home!" When I saw them, I understood they were cloud of witnesses proclaiming over the land and I sensed they had once been slaves. As I saw them, part of people were literal humans in appearance (like solid substance) and part of the people were ethereal and they were all dressed in the same time period. I realized they were the cloud of witnesses that had come down and were decreeing over the land.
When I woke I wondered about the end time gatherings that will not be inside church walls. I thought of the homeless that will camp in fields and wait on the Lord and His Presence will be a shield and refuge for them. And I thought how He will once again do miracles of multiplying small portions of food to feed the multitudes.