12/04/16 CALM YOURSELF AND ENTER IN
HEARD AND SAW:
I saw a word and it said diligent. To push yourself, don't overdo. Yes this is My word for you.
Calm. Winter's approach. Hush. Stay simple. Organized. Wrestling. You don't have to live there. I saw a box. Confined. I saw all my hopes and dreams being written. Then I saw a blue box being drawn on a piece of paper and the lid came open. This is my will for you sweet one. Lid off. I saw the lid taken off the box.
This is a relationship. So trust Me and lean. My load is light and easy, you know that. A well of deep water, yes. But not heavy. Just abide. Yes it is deep. They coordinate, every one of them. Yes this is My Word. It's a deep underlying foundation you have prepared. Enjoy the fruits of your labor sweet one.
What is on your heart right now? Talk to Me.
Isaiah 62:4 Thou shalt no more be termed, Forsaken; neither shall thy land any more be termed, Desolate: but thou shalt be called, My delight is in her, and thy land, Married; for Jehovah delighteth in thee, and thy land shall be married.
To approach me. Fellowship. I have hidden you. I am protecting you. Assurance. Stay hidden. Calm, yes your level of peace. It's in pleasing Me. Aligned properly. To be in synch with My step. Every step counts. Smile. Stay calm.
2/10/05 DRAWING NEAR BY FAITH WITHOUT GUILT
Draw near. Bask. You know how to enter little one. Do not be afraid. Calm down. Transitioning you yes. Independence never. Setting you free. Bondage. Guilt not from Me. Heightened awareness. Acute. Sensitivity. Tangible. I AM here surrounding you.
PRECIOUS CONFIRMATION - WINTER'S CALM
I painted the following last month and it continues to be one of my favorites. I had entitled it Winter's Calm.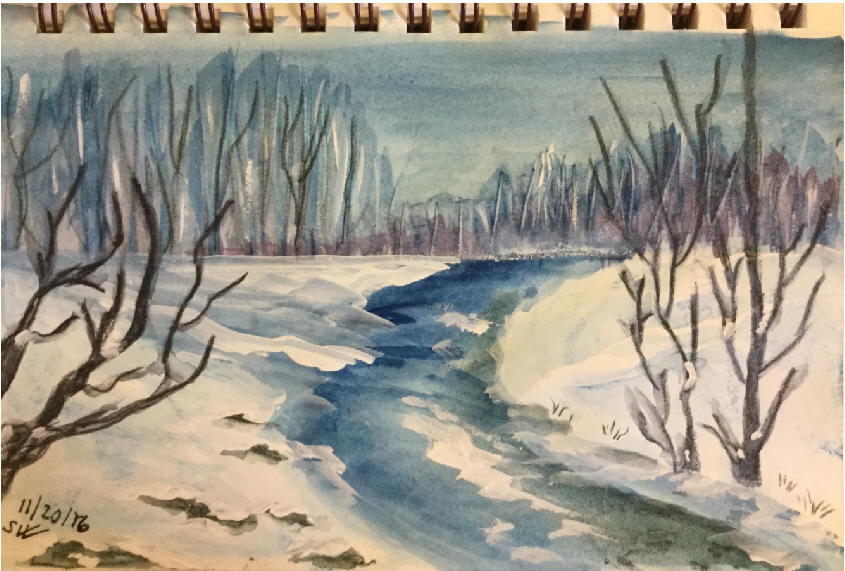 Yesterday I received a Christmas card and I knew it was a wonderful confirmation. Even the colors have been strongly quickened to me as the colors of 5777. This is deeper revelation and also the spirit of Might in the 7 spirits of God.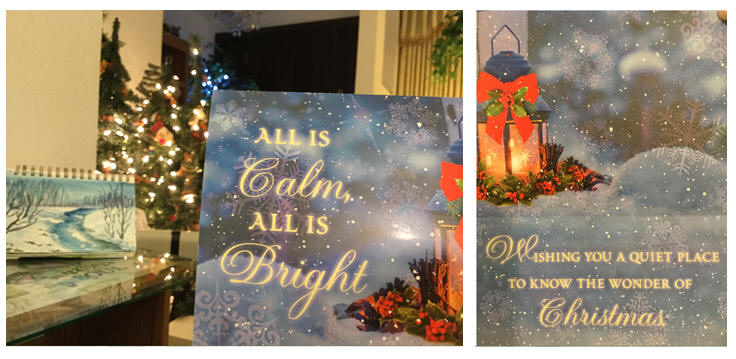 WORD TO PONDER: CALM YOURSELF AND ENTER IN 12/04/16
Beloveds I earnestly desire for you to come into your resting place in Me, where the works of your soul, all striving and wrestling would come to naught. This is overcoming thoughts, motives, attitudes and deeds that do not please Me or align with My Word. As you learn this resting place, I will settle you into a deeper sense of peace that you haven't known before. Enter in, practice this and find the keys I have waiting for you to use. I will open doors of deeper revelation.
I will release My Spirit of Might into places of chaos. Like a blanket of snow on a quiet winter's morning, I will bring all to a holy hush as heaven and earth awaits the power of My Spirit to make contact through those vessels that give Me pleasure. Listen to My holy night when the baby was born and heaven came to earth.
Zechariah 4:6 Then he answered and spoke unto me, saying, This is the word of the LORD unto Zerubbabel, saying, Not by might, nor by power, but by my spirit, says the LORD of hosts.