4/16/15 BALANCING / ALLOTTING OUR TIME
Wayne heard the Lord say: "This is real balance."

QWN UPDATE CONFIRMATION 4/20/15: time for balance in your life
Someone from the QWN posted the following WordPicture and called it Time for balance in your life. I was amazing at how this scrapbook graphic (!!) and scripture applies to this theme of "This is real balance."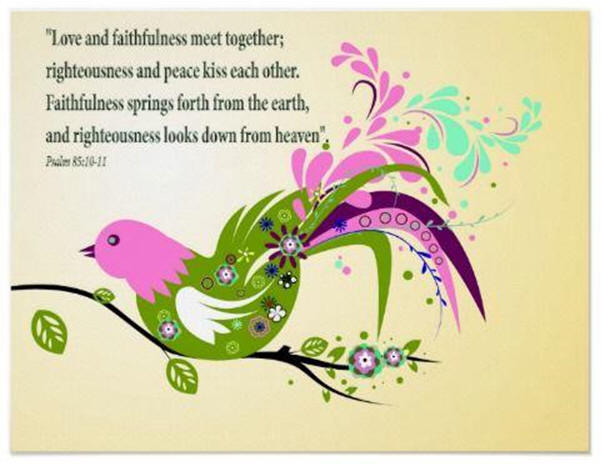 This year as an intercession and standing in the gap, I let go of TV and I needed the Lord to fill the time and hole that TV left. In the evening I was only watching G rated non-fiction shows like cooking, but even that I felt needed to be laid down. Before I always filled that evening time (when I chose not to watch TV) with harvesting more rhema and posts. Letting go of TV has not been easy this time because I have been overcoming burn out with harvesting. So this year I have added more graphics work into my life with the creative time of digital scrapbooking for the QW school and also doing the kids books. The balance I am trying to arrive at is giving my mornings for rhema and study, part of my day for scrapbooking and graphics work on the computer and part of my day for fellowship. Evenings I have been listening to sermons on my iPad on the internet.
Psalms 85:10-11 Mercy and truth are met together; righteousness and peace have kissed each other. Truth shall spring out of the earth; and righteousness shall look down from heaven.
APPLICATION OF THE ABOVE SCRIPTURE
The Lord has given me mercy regarding burnout in ministry and helping me to apply His Word promise that His load is light and easy.
Matthew 11:28-30 Come unto me, all you that labor and are heavy laden, and I will give you rest. 29 Take my yoke upon you, and learn of me; for I am meek and lowly in heart: and you shall find rest unto your souls. 30 For my yoke is easy, and my burden is light.
My righteous choices of laying down TV has brought me into a new level of peaceful living in closing demonic doors. Part of laying down TV is an intercession to stand in the gap against everything that is fiction, which is watching and reading things that is NOT true, it is fabricated fantasy. The Lord has been displeased with prognosticating via media and wanting His truth to displace all lies. So when I continue to apply the WordPicture scripture, He is promising me that because of this stand, truth is springing forth into the earth and heaven shall kiss us with His Presence.
INSERTS - THE NEED TO FIND BALANCE
12/21/15 BALANCE OF POWER AND DIFFERENT SEASON
Heaven is on the earth. Running away, find her. She isn't running away. She's resting. My point exactly. A quietness of the soul. Witness. I set you free. No more duty. I am turning you in the right direction. Dumbfounded. The things that matter to you. These are my values and I care about them deeply. I truly do. Balance of power. It's about to change. What we do with our time. Bringing you closure. A different season. Fellowship.
2/18/15 DECENTLY AND IN ORDER
Precious, be fully aware of what I say and do from now on. You are going to see clearer and clearer as never before. Bringing about changes in and through you.
Order, everything in nature is order and balanced. This is Who I AM. Precise. I saw a school of fish and they were all swimming together in the same direction, at the same angle and in synch.
2/25/15 BALANCE – SMOOTHING OUT THE WRINKLES
I saw my blue rocking chair being put back into position. I was moving it with my foot and pushing it back into place because the kids had taken it out of place. I grafted you together. Be obedient. Follow through. It is very important for the walls of faith. Good job.
Alignment. In synch and walking together. Balance. I saw a pair of hands smoothing out the wrinkles.
Clear the table. I saw the table being wiped off. Now begin again. You are trying to do too much.
3/15/15 ARE WE BALANCED YET?
Follow through. Write. I will show you. Balance?
[I had heard Joyce preach last night on balance in our lives with work and play.]
2/03/02 CRYING FROM OVERLOAD
Hear the cry of my heart. I surrender. What is it you are trying to say to me? What's important is what He wants. Help, I'm in danger of overload. Hear the cry of my heart. Try to be flexible. I will be with you. Balance.
2/3/02 BRINGING BALANCE FROM OVERLOAD
I can hear the cry of your heart My little one. How the taskmasters have driven My people with overload. Try to remain flexible as I bring your life back into balance. It is a time of transition and I will move you safely into place as you lean upon Me. For My yoke is easy and My burden is light.
"Come unto me, all ye that labour and are heavy laden, and I will give you rest. 29 Take my yoke upon you, and learn of me; for I am meek and lowly in heart: and ye shall find rest unto your souls. 30 For my yoke is easy, and my burden is light." (Matt 11:28-30 KJV)
CONFIRMATION 4/13/15 – The following Word to Ponder popped up on the screen at my new Word to Ponder website:
PUT ON THE MIND OF CHRIST JESUS TO STRENGTHEN YOU
After having pursued through a long season, I am recovering My own from burn out. Just like sweet sugar is not the sustenance for a long race, so it is with the flesh. Only strong meat will do in this late hour of running My race. Yes you have spit out strong meat in years prior, but this time around I AM bringing you to understand the need for My protein and fat that feeds your spirit and soul in the deeper mysteries and revelations of My Words.
I have given you safe boundaries to follow My Word and to protect your mind from carnality. Always test each Word with scripture. Always gird your mind with My own parameters. I will re-establish you to be settled and secure so that you may once again increase your territory in a safe and balanced fashion.
Beloved one, forsake the temptations to think carnally. Maturity comes to those who put ON the mind of Christ. Just like you put on a hat, simply put on a spiritual hat when you hear My Word. When you put on My mind, you will be strengthened and fully confirmed. Each and every confirmation shall increase your passion to run the race once again with renewed vigor and expectation.
Gal 3:26-27 NKJV For you are all sons of God through faith in Christ Jesus. For as many of you as were baptized into Christ have put on Christ.
Eph 4:22-24 NKJV … that you put off, concerning your former conduct, the old man which grows corrupt according to the deceitful lusts, and be renewed in the spirit of your mind, and that you put on the new man which was created according to God, in true righteousness and holiness.
Col 3:10 NKJV …put on the new man who is renewed in knowledge according to the image of Him who created him…