RHEMA 7/17/13 ANOTHER CHANCE
HEARD: Will you give me another chance? Song of Solomon 2:10.
Song of Solomon 2:8-17 The voice of my beloved! behold, he comes leaping upon the mountains, skipping upon the hills. 9 My beloved is like a gazelle or a young stag: behold, he stands behind our wall, he looks forth through the windows, showing himself through the lattice. 10 My beloved spoke, and said unto me, Rise up, my love, my fair one, and come away. 11 For, lo, the winter is past, the rain is over and gone; 12 The flowers appear on the earth; the time of singing has come, and the voice of the turtledove is heard in our land; 13 The fig tree puts forth its green figs, and the vines with the tender grapes give a good smell. Arise, my love, my fair one, and come away. 14 O my dove, in the clefts of the rock, in the secret places of the cliff, let me see your face, let me hear your voice; for sweet is your voice, and your countenance is lovely. 15 Catch us the foxes, the little foxes, that spoil the vines: for our vines have tender grapes. 16 My beloved is mine, and I am his: he feeds his flock among the lilies. 17 Until the day breaks, and the shadows flee away, turn, my beloved, and be like a gazelle or a young stag upon the mountains of Bether.
Song of Solomon 4:6-7 Until the day breaks, and the shadows flee away, I will go up to the mountain of myrrh, and to the hill of frankincense. 7 You are all fair, my love; there is no spot in you.
EXPERIENCE: Yesterday on the way home, just 2 houses away from ours, a doe and buck crossed the road from the mts and river. I have never seen deer so close to our home before and it was very good that I had slowed down and so I was not caught unaware. I stopped and took a picture of them in with my iTouch. He is hiding in the shadows and looking back at me after having crossed the road in front of my car. It was SO quickened to me and I was not sure what it meant, but I knew the Lord had sent them!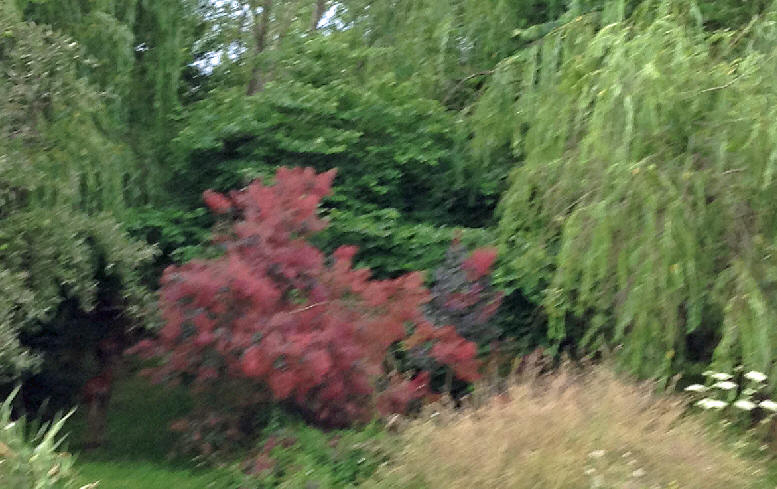 REVELATION: In the morning when I looked up Song of Solomon 2:10 after hearing the scripture, He brought back to me the whole context of that verse: During the night, the Lord comes to our spiritual portholes, (Heb for Lattice) and calls us to come away with Him. Those who are caught in spiritual slumber stir awake and realize He is knocking for fellowship and intimacy, and wanting the foxes that steal our intimacy with Him to be caught. But instead of immediately responding to His call, they say, "Lord until the break of day, be like a deer and leap upon the mountains, so I can still sleep." But when they have awakened and realize their love for Him has been aroused, they run after Him and cannot find Him! That is a story within the Song of Solomon. There are many, many who have gone through this time where the Lord once aroused their love for them, and they went back to sleep and then cannot find Him.
Song of Solomon 3:1-2 By night on my bed I sought him whom my soul loves: I sought him, but I found him not. 2 I will rise now, and go about the city in the streets, and in the squares I will seek him whom my soul loves: I sought him, but I found him not.
Song of Solomon 5:2-10 I sleep, but my heart wakes: it is the voice of my beloved that knocks, saying, Open to me, my sister, my love, my dove, my perfect one: for my head is filled with dew, and my locks with the drops of the night. 3 I have put off my robe; how shall I put it on? I have washed my feet; how could I soil them? 4 My beloved put in his hand by the latch of the door, and my heart was thrilled for him. 5 I rose up to open to my beloved; and my hands dripped with myrrh, and my fingers with sweet smelling myrrh, upon the handles of the lock. 6 I opened to my beloved; but my beloved had withdrawn himself, and was gone: my soul failed when he spoke: I sought him, but I could not find him; I called him, but he gave me no answer. 7 The watchmen that went about the city found me, they struck me, they wounded me; the keepers of the walls took away my veil from me. 8 I charge you, O daughters of Jerusalem, if you find my beloved, that you tell him, that I am sick with love. 9 What is your beloved more than another beloved, O you fairest among women? what is your beloved more than another beloved, that you so charge us? 10 My beloved is white and ruddy, the chiefest among ten thousand.
In the early years of my calling I totally fasted TV and I had many trance visions. And then when I began to add TV back into my life, much of that closed down. I walked out the above and searched and searched for what I once had in Him. Now after much discipline, I am extremely careful when I watch tv, that it be obedient to scripture. What we fellowship with are the little foxes that DESTROY our vines and fruit. I believe that the Lord is returning to us a second time, to stir us awake, to catch the foxes, so that we will leap with Him when He calls!
Rev 4:1 NKJV
After these things I looked, and behold, a door standing open in heaven. And the first voice which I heard was like a trumpet speaking with me, saying, "Come up here, and I will show you things which must take place after this."
WORD TO PONDER: I AM KNOCKING A SECOND TIME 7/17/13
Dearest one, wake up sleepy head, wake up! Yes it is I, I AM stirring you awake and waiting for you. I miss you and long for you! In the early hours before the dawn, when your worldly pursuits are at rest, I place My hand upon the door of your heart and I stir you and call you. I AM giving you a second chance at love.
Wait for Me more than those who watch for the morning and the breakthroughs of day. I will speak a Word in season and awaken your ear to hear. I will open your ear for you are no longer rebellious, neither will you turn away. Yes weeping endured through a night of lost opportunities, but My joy comes in the morning. Beloved, in the womb of the morning, in the beauty of holiness, My power is raising like the early morning dawn of the new day. Wait upon Me beloved, hope in My Word.
Ps 130:5-6 NKJV
I wait for the LORD, my soul waits, and in His word I do hope. My soul waits for the Lord more than those who watch for the morning -- Yes, more than those who watch for the morning.
The Lord GOD hath given me the tongue of the learned, that I should know how to speak a word in season to him that is weary he wakeneth morning by morning, he wakeneth mine ear to hear as the learned. 5 The Lord GOD hath opened mine ear, and I was not rebellious, neither turned away back." (Isa 50:4-5 KJV)
Ps 30:5 NKJV
For His anger is but for a moment, His favor is for life; Weeping may endure for a night, but joy comes in the morning.
"Your people shall be volunteers in the day of Your power; In the beauties of holiness, from the womb of the morning, You have the dew of Your youth." (Ps 110:3 NKJV)