8/30/16 ACCESS BEYOND THE VEIL
QUICKENED SCRIPTURE:
2 Corinthians 3:16 "Nevertheless when one turns to the Lord, the veil is taken away.
I listened today to a lady who said you can go to heaven whenever you want and I was wondering how people can say that and do it. My faith was really quickened when I heard the Lord speak the scripture to me. I had been pondering how to catapult to heaven. Our access to the Lord is as easy as turning our hearts towards Him.
I felt led to go to the rhema index on the website and scroll down 7 times with my finger on my tablet. I did not have my glasses on so I didn't know where it landed and I just touched the screen and it opened to the following. I was SO touched that the Lord was still speaking to my exact desire I had pondered today.
YOU HAVE ACCESS TO HEAVENLY PLACES 8/06/14
KYROS TIMING: Today I was listening to a webcast and Neville Johnson said, "We have access to the throne of God."
I was clicking on screens in the background and upon Neville's word ACCESS, suddenly Bobby Conner 'svoice came through my speakers at the same time! Bobby said, I want to tell you about the word ACCESS!!
Neville went on to say, the clearer that world is to you is determined by the purity of our hearts, the purity of your focus and the renewing of your mind. We have access, but how real is that world to you? It's a parallel universe.
Hebrews 4:16 Let us therefore come boldly unto the throne of grace, that we may obtain mercy, and find grace to help in time of need.
Romans 5:2 By whom also we have access by faith into this grace in which we stand, and rejoice in hope of the glory of God.
Ephesians 2:18 For through him we both have access by one Spirit unto the Father.
Ephesians 3:12 In whom we have boldness and access with confidence through faith in him.
I gasped when I saw the following photo on facebook, it was stunning. A friend shared it with me.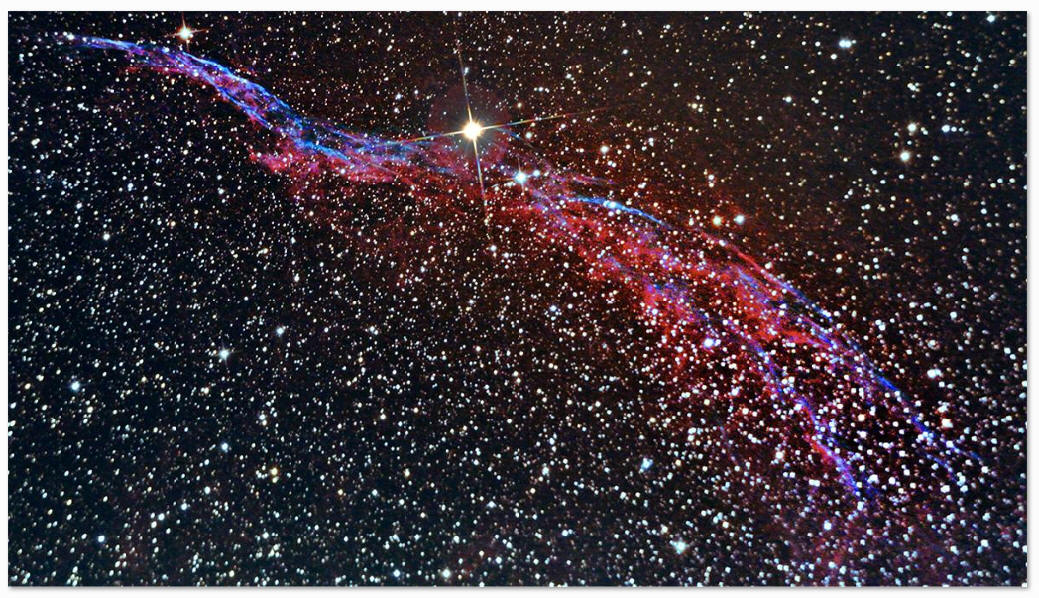 Boy did I get a fun surprise when I saved the photo. I wanted to know its name so I re-read his caption. It is called the VEIL nebula #6960! What an amazing Word the Lord has given.
He mentioned that he and the kids had spent the whole night trying to capture the photo and so I looked up the #6960. That is the main word used for waiting upon the Lord. Isaiah 40:31 But they that wait upon the LORD shall renew their strength; they shall mount up with wings as eagles… That is how we have access is to wait upon the Lord.
I looked up the Veil Nebula on Nasa and they said the Veil Nebula was from a massive star that exploded 8,000 years ago and the gases left made it look like a filmy veil. As soon as I read that, I remembered the scripture that said the Lamb was slain from the foundation of the world. God created all of our history into the stars and that was before man was put into the world. I sense this Veil Nebula is a sign of when the veil ripped in the temple as Jesus cried out "It is finished!" God waited a long, long time for His Son to say that declaration. He has given us total access because the veil is rent.
Matthew 27:50-53 Jesus, when he had cried again with a loud voice, yielded up his spirit. 51 And, behold, the veil of the temple was torn in two from the top to the bottom; and the earth did quake, and the rocks were split; 52 And the graves were opened; and many bodies of the saints that slept arose, 53 And came out of the graves after his resurrection, and went into the holy city, and appeared unto many.
VEIL
Strong's Greek Dictionary
2665. καταπέτασμα katapetasma (katapétasma)
Search for G2665 in KJVSL; in KJV.
καταπέτασμα katapétasma, kat-ap-et'-as-mah
from a compound of G2596 and a congener of G4072; something spread thoroughly, i.e. (specially) the door screen (to the Most Holy Place) in the Jewish Temple: —vail.
neuter noun
Hebrews 6:19 Amplified Bible (AMP)
19 This hope [this confident assurance] we have as an anchor of the soul [it cannot slip and it cannot break down under whatever pressure bears upon it]—a safe and steadfast hope that enters within the veil [of the heavenly temple, that most Holy Place in which the very presence of God dwells],
Hebrews 10:19-20 Having therefore, brethren, boldness to enter into the holiest by the blood of Jesus, 20 By a new and living way, which he has consecrated for us, through the veil, that is to say, his flesh;
FAITH IN MEASURE OF HEARING 5/15/05
Precious, I hear your many pleas to hear My voice and to find your way in the midst of a darkened world. You ask Me for increased measure in hearing. I hear your heart over and over again with this same desire. I hear your earnest wish. I too yearn to reach you even more.
It is so important that you understand what I AM about to tell you. What you seek is an abiding place, a place of rest in hearing Me day and night. Your place of rest in hearing Me, MUST be mixed with faith. Many earnestly wanted to enter in, but they were unable, having heard the Word but not mixing it with faith. Faith is not wavering and not doubting. How is it that faith overcomes these doubts and waverings? I will tell you very simply. Follow your conscience.
The veils between us rise and fall depending upon your sensitivity in obedience to My Spirit. You already know the issues that separate us. I AM not calling you to law, but to love. And when you understand love, it is the fuel that strengthens you in self-control over the things you feed upon through your flesh, namely your appetites, your thoughts and the world. Dear one, these become veils of resistance, that erode your faith. You must have faith that you are in right standing with Me. I AM a holy God. Yes, overcome condemnation, guilt, and shame and daily accept My forgiveness. Come to Me without doubt, and set aside the appetites that do not feed My Presence in Your life. You will find that the more you do this, the greater shall be your measure of faith to not only hear My heart, but RECEIVE My Words.
Heb 4:1-4 NKJV
Therefore, since a promise remains of entering His rest, let us fear lest any of you seem to have come short of it. For indeed the gospel was preached to us as well as to them; but the word which they heard did not profit them, not being mixed with faith in those who heard it. For we who have believed do enter that rest, as He has said "So I swore in My wrath, 'They shall not enter My rest,'" although the works were finished from the foundation of the world.