8/25/17 PRECIOUS BIBLE JOURNALING: A GARDEN ENCLOSED
I got a new Bible journal and have been asking that my time of scripture, prayer, ponder and expressive art be inspired and intimate with Him where we do it together. I have been really enjoying this additional to my devotions.
I turned to the following Word to Ponder, and decided to create it as a transparency and put it into my Journaling Bible.
A GARDEN ENCLOSED
Dear one, there are times when contrary winds are blowing against you. I allow these sweeping winds to blow away the chaff and all that is wood, hay and stubble. Sometimes when you are downwind from those being stripped, you can be caught in the fall out of their debris.
Come dear one. Hide yourself safely in Me. Let My adoration of you and our intimate time together draw you into Myself. Let My Words surround you with a wall of safety from all that is contrary. I will comfort you and give you peace.
Song of Solomon 4:12 A garden enclosed is my sister, my spouse; a spring shut up, a fountain sealed.
Here is the page.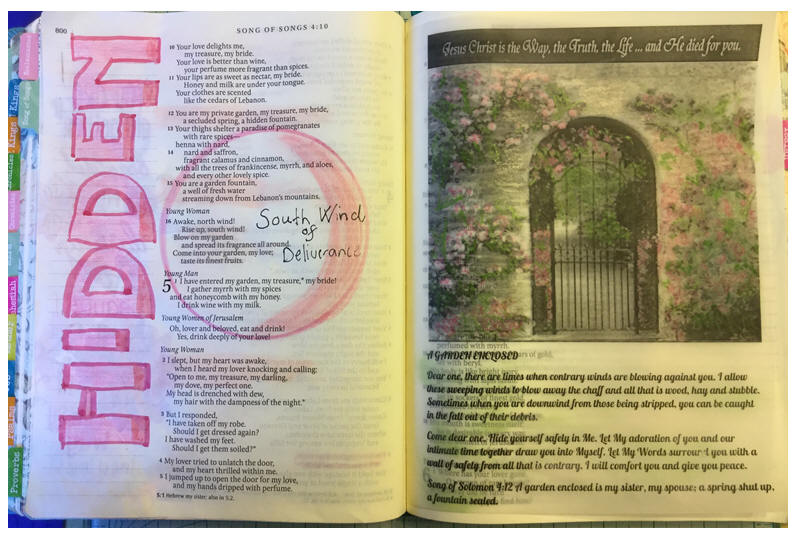 I pondered how needful the southwest winds of deliverance are to our lives. Come wind of God blow through me and get rid of the debri! I smiled as I pondered how many times people have prophesied over me southwest author, (swauthor) and remembered how Bob Jones called the southwest winds the delivering winds!
As I was coloring the transparency with colored pencils, I pondered how the Lord hides us away like a secret garden and when we enter into intimacy with Him, it is enjoying our garden together. It is private and hidden and SAFELY ENCLOSED. I thought of the Hebrew word beset where it means He encloses us completely, encircled all around inside of Him. We are hidden in Him! Then I remembered that in His secret place, we are under the shadow of His wings, kept safe. So I put shadows at the bottom of the letters HIDDEN and then also put a shadow on the bubble circle. And then I remembered that the Lord had given me the interpretation of the eclipse this week regarding Him covering us with His shadow! It all came full "circle".
AMAZING CONFIRMATION: GARDEN BY MISTY EDWARDS
I decided to clean up my craft table and I hadn't listened to music in months. So I turned on my itouch and the one that was on the screen was called GARDEN! Oh my goodness Lord, You are so precious to me. The Lyrics are exact.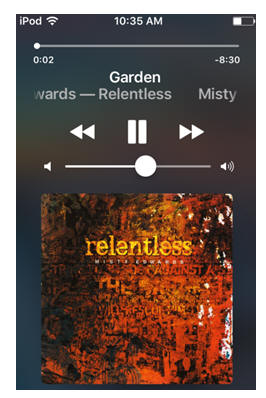 GARDEN BY MISTY EDWARDS
It's You and me alone God. You and me alone. Here it's You and me alone God You and me alone You've hedged me in with skin all around me. I'm a garden enclosed a locked garden. Life takes place behind the face. So come into Your garden Come into Your garden. Here O Lord! Have I prepared a place for You! I'm no longer my own I'm Your garden. I don't want to wasted my time living on the outside I'm going to live from the inside out I don't want to waste my life living on the outside I'm going to live from the inside out.